News story
LLWR workforce ensures record year for fundraising
Macmillan Cancer Support thanks LLW Repository Ltd (LLWR) for their £8,000 charity donation and says it will have a positive impact on those living with cancer.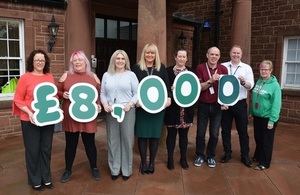 LLWR responded to its charity of the year like never before and raised a record £8,000 for Macmillan Cancer Support.
The sum included a company donation of £2,250 and Sue McDonald, Fundraising Manager for Macmillan, Cumbria, was delighted with the total.
She said: "It has been fantastic working alongside everyone at LLWR for the last year. The enthusiasm to fundraise was awesome and everyone was keen to get involved with the many, varied activities. I was blown away to discover that the total raised for Macmillan Cancer Support was £8,000.
"This will make a real difference to the lives of local people living with cancer. I'd like to say a massive 'thank you' from Macmillan and from me personally, to everyone who has played a part in raising this phenomenal total.
"Big thanks also to LLWR for allowing the fundraising to happen and for the generous corporate donation. I hope everyone concerned is feeling really proud."
Published 12 April 2018