LLWR signs cooperation agreement with European neighbours
Radioactive waste agencies pledge to share information and experiences of near surface disposals.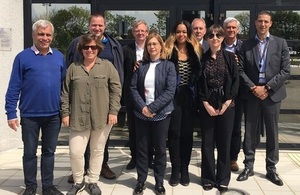 LLW Repository Ltd (LLWR) has signed a cooperation agreement with three European radioactive waste agencies, pledging to share information and ideas on development plans.
Two members of the LLWR team, Dr Amy Huntington and Dr John Shevelan, travelled to Cherbourg in France to sign the agreement and join a workshop with colleagues from France, Spain and Belgium to discuss cover systems for near surface waste disposals.
LLWR is currently in the initial phase of a multi decade plan to place a final cap over low level radioactive waste vaults and historic trenches on its Repository Site in Cumbria.
Dr Huntington, LLWR's Environmental Safety Case Manager, said: "It was really useful to see how other repositories operate and to share information on our development plans whilst benefitting from the experience of the other participants.
"We look forward to future interactions and collaboration on areas of mutual interest. The visit to the Cherbourg umbrella factory/museum was especially interesting in showing how combining different materials can provide additional levels of protection in the form of a bullet proof umbrella. Although for the LLWR cap design we don't think we need to go that far!"
The workshop was held at the ANDRA Centre de stockage de la Manche site, France's largest surface facility for both low and intermediate level waste disposal, which operated between 1969 and 1994 and is currently in a monitoring phase before final closure.
"It's good to finally have the agreement signed as it took some time to arrange," said Dr Shevelan.
Published 27 June 2019