News story
LLWR Leadership Team shows support for anti-bullying campaign
Pledge Cards urging workforce not to be bystanders when witnessing bullying behaviour have been adopted.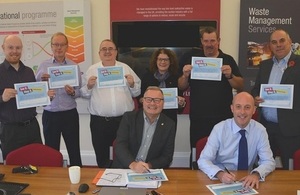 The Leadership Team at LLWR is showing its strong support for Anti-Bullying Week this week with members signing special Pledge Cards.
The cards state that signatories will not be a bystander to bullying behaviour. Members of LLWR's Equality, Diversity and Inclusion (ED&I) Focus Group are distributing cards to the workforce, who will be asked to sign and display them to raise awareness and show support for the campaign.
A key finding of a 2017 NDA Group-wide survey was that 5% of LLWR employees felt bullied in the workplace, and the organisation is focusing sharply on the issue.
Dave Rossiter, LLWR's ED&I Champion, said: "Pledge Cards are another way of showing that bullying will not be tolerated in our workforce.
"By signing these Cards we are promising to call out bullying or harassing behaviour wherever we see it. Creating a respectful workplace culture is the job of us all."
Pledge Cards are one of several initiatives planned this week to reinforce our anti-bullying message.
Guidance information for managers to prompt discussion in team meetings is also being made available, posters highlighting routes to assistance for those who feel bullied have been displayed prominently and LLWR's digital screens will highlight the company initiative.
Published 16 November 2018