World news story
Linking Parliamentarians in Kazakhstan and Kyrgyzstan to their Constituents
An international forum on "Parliament and Constituents: European and Central Asian Experience" took place in Bishkek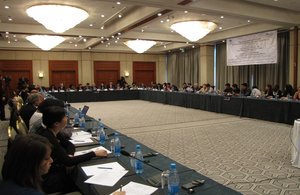 The Forum was part of a project funded by the British Foreign and Commonwealth Office called "Linking Parliamentarians in Kazakhstan and Kyrgyzstan to their Constituents" which is being implemented by the National Democratic Institute (NDI). HM Ambassador Judith Farnworth delivered an opening speech, in which she highlighted the importance of close links between parliamentarians and their constituencies, which lie at the very root of democracy and enhance the accountability and responsiveness of deputies towards the electorate.
Vice Speaker of the Kyrgyz Parliament Asiya Sasykbaeva and President of the Kazakh Foundation for Parliamentary Development Senator Zauresh Battalova (ret.) also delivered opening remarks, in which they outlined progress in their respective Parliaments towards increasing accountability of MPs through closer connections with constituencies.
The keynote speakers of the Forum were experts from the European Union - former Member of the Parliament of the United Kingdom Andrew MacKinlay, Deputy of the Chamber of Deputies of the Czech Republic Viktor Paggio, and Member of the National Council of the Slovak Republic Ivan Stefanec. They all shared their personal experiences of how they had drawn on their understanding of voters' needs and concerns to improve their overall effectiveness as legislators.
The Forum attracted high-level attendance of a large number of Kyrgyz MPs and representatives of civil society. The participants showed a common commitment to promoting closer engagement between MPs and electorate. The overall project which ends on March 31 will hold public hearings throughout the regions and issue small grants to improve the links between MPs and their constituencies to civil society organisations.
The United Kingdom is committed to supporting the development of parliamentary democracy in Kyrgyzstan. For example, the DFID has joined forces with USAID in funding the "Deepening Democracy" multi-year project on supporting the Kyrgyz Parliament by providing an overall budget of 4mln GBP over the next three years. The British Embassy Bishkek has also supported two projects implemented by a local NGO on supporting civil society in forming voter lists during local elections and their independent monitoring in 2012. In addition, the Embassy has also funded a project of the British East West Centre on raising election standards in Kyrgyzstan based on recommendations of Kyrgyz and international electoral reports following the last several elections in the country.
The Forum closed with a reception hosted by the HM Ambassador in honour of the three European visitors with participation of Kyrgyz MPs Dastan Bekeshev and Roza Aknazarova and a wide range of civil society activists.
Published 19 March 2013