Press release
Lincolnshire firm to pay £24,300 for polluting local watercourse
A Skellingthorpe business has been fined £15,300 and ordered to pay more than £9,000 in costs for polluting 3.5km of local watercourse.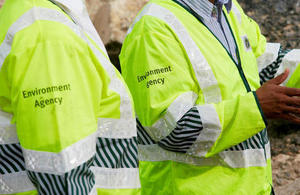 A Hughes and Son (Skellingthorpe) Ltd, Jerusalem Farm, Skellingthorpe, pleaded guilty to a breach of Environmental Permitting Regulations for allowing effluent to flow into a tributary of the Skellingthorpe Catchwater Drain, resulting in extremely high levels of ammonia in the water.
Lincoln Magistrates' Court heard the company, which runs a rendering plant on-site to process animal by-products into protein meal, had been negligent and failed to take reasonable care to prevent the pollution from occurring.
The court was told by Megan Huff, prosecuting for the Environment Agency, that the company's monitoring processes were insufficient, and the sampling they had carried out of the tributary was inadequate as it failed to identify significantly high levels of ammonia in the watercourse.
The case was brought by the Environment Agency following a report of suspected pollution in September 2013. An Environment Officer attended and observed a light-coloured bubbling and frothing discharge entering the watercourse. Investigations found that the discharge was seeping through the bank of the watercourse from the company's site.
Ms Huff told magistrates the levels of ammonia recorded in the watercourse were grossly polluting at 207mg/l and toxic levels of 39.8mg/l were also recorded approximately 3.5km downstream. Typically, clean river water has ammonia levels of less than 1mg/l.
Additionally, the company's water monitoring plans provided no details as to how or where the waste water lagoon or tributary was to be checked. The drainage plan did not include the lagoons or any drainage in relation to moving the effluent to and from the lagoons.
The company cooperated with the investigation and has increased monitoring of the tributary. There have not been any further pollution incidents reported.
After the hearing, Environment Officer Alice Calton said:
We are satisfied with the outcome and pleased that the courts have taken this matter seriously.

We hope that this prosecution will send a clear message to other companies and operators that poor practice is unacceptable and they must have suitable site management to prevent pollution incidents.

High levels of ammonia can have a detrimental effect on fish and other aquatic life, affecting their food, breeding, or even poisoning them. Pollution like this can have devastating effects on the watercourse and it is essential that all care is taken to prevent this type of incident.

We'd also encourage anyone who spots a potential pollution issue to report it to us by calling 0800 80 70 60 so we can investigate and take the necessary action.
The company pleaded guilty to, between 4 and 19 September 2013, causing a poisonous, noxious or polluting matter to enter inland freshwaters, namely a tributary of the Skellingthorpe Catchwater Drain at Jerusalem Farm at Skellingthorpe, Lincolnshire, without being authorised by an environmental permit, contrary to regulations 12(1)(b) and 38(1)(a) of the Environmental Permitting (England and Wales) Regulations 2010.
The company was also ordered to pay a victim surcharge of £120.
Published 7 April 2016