Lights, camera, democracy in action
New rights for journalists and bloggers to film council meetings.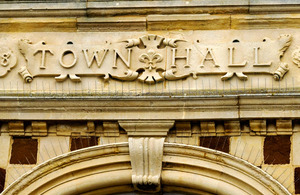 Local Government Secretary Eric Pickles today published a new guide for local people explaining how they can attend and report their local council meetings. New guidance explicitly states that councils should allow the public to film council meetings.
The new how-to guide gives practical information for the public to attend meetings of a council's executive and how to obtain council documents. The government has changed the law to allow citizens to report, blog, tweet and film council meetings in England. It also outlines the assorted rights that taxpayers' have to access council papers and documents.
However, many councils across the country are still refusing to allow people to film public council meetings. In some episodes of TV programme Grand Designs, viewers have been perplexed at cameras being stopped from filming meetings of the planning committee considering the self-build projects.
The new guidance explicitly states that councillors and council officers can be filmed at council meetings, and corrects misconceptions that the Data Protection Act somehow prohibits this.
The Health and Safety Executive has also shot down the suggestion that 'health and safety 'regulations' also bar filming, which Wirral Council used to justify a filming ban last year.
The new rules do not apply to Wales, as they have not been introduced by the Welsh government who have devolved responsibility. This led to the situation of a blogger being arrested and handcuffed by the police for filming a council meeting in Carmarthenshire. Wrexham council also banned a journalist from the Daily Post from tweeting a council meeting. Eric Pickles has today challenged Welsh ministers to introduce the new rights in Wales too.
Eric Pickles said:
I want to stand up for the rights of journalists and taxpayers to scrutinise and challenge decisions of the state. Data protection rules or health and safety should not be used to suppress reporting or a healthy dose of criticism.

Modern technology has created a new cadre of bloggers and hyper-local journalists, and councils should open their digital doors and not cling to analogue interpretations of council rules.

Councillors shouldn't be shy about the public seeing the good work they do in championing local communities and local interests.

I challenge the Welsh government to give taxpayers in Wales the same rights as those in England now have, and stop the scandal of free speech being suppressed in Wales' town halls.
Further information
Your council's cabinet: going to its meetings, seeing how it works: a guide for local people is available for download.
The guidance gives practical assistance: filming should be overt, people should be informed at the start of the meeting, and councils should have a clear policy on whether members of the public who may speak at a meeting should have the right to opt-out of filming (so as not to discourage public participation). But the guidance is clear that town officers and councillors can be filmed, as they are public officials.
The detailed provisions are contained in the secondary legislation made under the 2000 Act, that is the Local Authorities (Executive Arrangements) (Meetings and Access to Information) (England) Regulations 2012. The regulations were enacted in September 2012 and announced on the Department for Communities and Local Government website.
Bloggers have reported how Wirral Council used 'health and safety' as grounds for a filming ban.
Yet the Health and Safety Executive has slammed down suggestions that health and safety regulations prevented filming.
Blogger David Allen Green of the New Statesman has blogged on the Carmarthenshire Council case.
Last month, Wrexham Council u-turned on its 'no tweeting' policy following a campaign by the Daily Post.
The Electoral Reform Society has accused Welsh councils of "conducting business like it was the last century".
Published 14 June 2013