Press release
Licence dodging angler pays high price for a day's fishing
Fisherman Peter Farquharson's attempt to bluff his way out of trouble cost him dearly.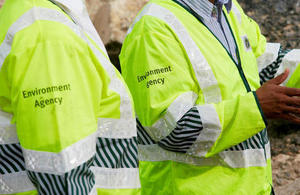 The angler was caught without a valid rod licence at Northam Farm fishing lake near Burnham-on-Sea, Somerset on 25 May 2015.
Despite his fishing tackle being clearly visible at the water's edge and having bought a day permit to fish, Mr Farquharson told Environment Agency bailiffs he had no intention of fishing.
The angler's attempt to 'get off the hook' seriously backfired when his case went before a district judge at Taunton magistrates court. He was ordered to pay a total of £1,360 in fines and costs after the judge came to the 'irresistible conclusion' he was guilty.
Farquharson, from Newport, South Wales, had earlier pleaded not guilty to fishing without a licence. He failed to appear in court on Wednesday (25 November 2015) and was found guilty in his absence.
Farquharson was fined £400 plus £400 costs. He was also ordered to pay £520 court costs and a £40 victim surcharge. The severity of the sentence reflects his not guilty plea.
Published 1 December 2015