Press release
Liam Fox champions British flag bearers as the Midlands Engine drives up UK exports
Today International Trade Secretary Liam Fox visited Norton Motorcycles and Swift Cut Automation, 2 companies from the Midlands flying the flag for British quality and exports.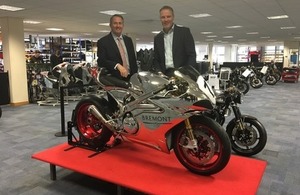 During the visit the Trade Secretary saw how his department has helped unlock new export opportunities for firms in the Midlands and outlined the further support and expertise available to help them expand into markets right across the world.
He first toured Swift Cut Automation, a manufacturing leader throughout Europe, the Middle East and Australia. Walking the facility Dr Fox learnt how the precision plasma cutting table designer and manufacturer has grown their exports, which now account for over 80% of their business.
Dr Fox then travelled to Norton Motorcycles where he met the newly announced Midlands Engine Export Champion and CEO, Stuart Garner. The Trade Secretary saw how British motorcycles have been put firmly back on the international roadmap, with the firm making over 2,000 motorcycles delivered to customers across the world.
International Trade Secretary Dr Liam Fox said:
We want to support UK businesses large and small as they grow, and help them connect with global demand. Here in the Midlands, the number of exporters is continuing to thrive, with almost 30,000 businesses taking advantage of the opportunities in overseas markets.

The UK is open for business, and success stories like Swift Cut Automation in Burton-on-Trent and Norton Motorcycles in Donington are flying the flag for British quality and expertise, bringing a boost to their local economies.
From 2015 to 2016 exports of goods from the East Midlands increased to over £15 billion with almost 13,000 firms exporting from the region. The West Midlands increased to more than £27 billion through 15,000 exporters.
Working closely with the government Swift Cut Automation has successfully entered into several new markets and with the support of DIT has now expanded into American markets.
In 8 years Norton Motorcycles has grown to export 80% of its bikes to over 20 territories and employs more than 100 people. Supported through grant funding from government backed British Business Bank and Advanced Manufacturing Supply Chain Initiative, the firm has developed new models starting negotiations and securing agreements with Chinese and Indian manufacturers.
Published 31 March 2017