World news story
Let's Talk Politics: The time has come for #SeatsForWomen
At a reception held in Beirut British Ambassador Hugo Shorter called for the 50% of Lebanon's population to be represented by more than 3% of its parliament.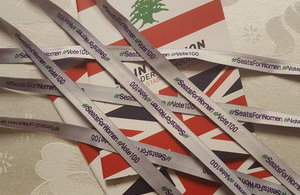 In the presence of His Excellency Minister of State for Women Affairs Jean Oghassabian and more than seventy women, mainly candidates and men and women from all walks of life, the British Ambassador to Lebanon hosted a reception to call on political parties, voters and women to increase women's representation in parliament in the upcoming elections. The event was also an opportunity to celebrate 100 years of votes for women in the UK.
The British embassy in Lebanon has been working on women's rights and empowerment for a number of years, including promoting the role of women in politics. The British Ambassador Hugo Shorter has been amongst the most prominent advocates first for a women's quota to be included in the new electoral law, and then for parties to promote women's candidacies on their lists.
During his address at the event, Ambassador Shorter said:
This is a symbolic year for women in the UK. I hope it will be a symbolic year for women in Lebanon too. 100 years ago this month, women in the UK were granted the vote for the first time. It wasn't total suffrage: only women over 30 who owned property could vote. But it was a milestone moment that started a sea-change: 10 years later, the vote had been extended to all women over the age of 21
Nonetheless, the UK is still on a journey. 9 out of 28 ministers attending our Cabinet are women. 32% of our MPs are women. Not bad, but we could do better. The descendants of those courageous women – and a few men – who campaigned for women's suffrage, continue their work.
Lebanon is on that journey too. It started well: Lebanese women won the vote ahead of many, in 1952. But then something stalled.
Votes for Women was the slogan of the past. Today, it's Seats for Women. Women are fighting for their rights. But they also need the people in power- the men - to be willing to share that power, to build a better society. Women are succeeding in all walks of life. It is not competence or lack of will that is holding them back.
And the truth is that voters know that. A recent poll by the National Democratic Institute showed that 75% of those who were given the chance to vote for a woman in the 2016 municipal elections, did so, the majority because they wanted to encourage women's participation.
The time has come for 50% of Lebanon's population to be represented by more than 3% of its parliament.
The time has come for seats for women.
And so I say to political parties, to voters and to women themselves: Yalla!
Published 13 February 2018