Less red tape and more accountability
Abolishing Comprehensive Area Assessments (CAA).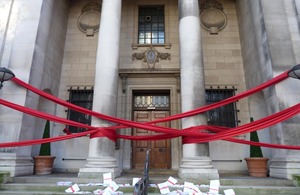 Councils will be freed from wasting millions of public pounds and thousands of man hours reporting back to government, with the start of a new era of transparency and public accountability, enabling councils to focus more on frontline services.
Secretary of State Eric Pickles has written to council leaders to tell them that he has instructed the Audit Commission and 5 other local inspectorates to stop costly top-down reports officially known as the Comprehensive Area Assessments.
Ministers believe that ending Comprehensive Area Assessments will save the Audit Commission £10 million, and councils will also feel the financial benefit, as independent research put the average annual cost of reporting back to government at £1.8 million. In 2006 the National Audit Office estimated the overall cost of monitoring local government at £2 billion a year.
Transparency and public accountability, not Whitehall red-tape
Communities and Local Government Secretary, Eric Pickles said:
In the face of the nation's £156 billion deficit, central government needs to stop the costly top-down monitoring that is engulfing councils and start trusting them to do what is right locally.

Today I have instructed town hall watchdogs to stop tying the hands of council workers with unnecessary red tape and paperwork.

It is much more important for the public to know what their councils are doing than having thousands of hush-hush, unseen papers being sent back and forth between Whitehall bureaucrats and the town hall.

We are already pushing power as far away from Whitehall as we can and calling on councils to throw open their books to create much more cost effective and efficient local public services.
Mr Pickles has called for greater transparency and openness to be the default setting for how councils do their business, publishing all information on the quality of council services online. This will root out wild overspending, expensive mistakes and unnecessary waste saving the public millions.
Facts and figures
Leicestershire councils found they had 90 full time staff collecting and processing more than 3,000 individual data items for central government at a cost of £3.7m a year. They also faced 83 different inspections every year.
Videos
Watch a video of Ministers and Council leaders discussing the end of CAA
Video transcript: abolition of CAA (MS Word Document, 24KB)
Watch a video of Greg Clark talking about abolishing Comprehensive Area Assessments
Video transcript: abolition of CAA - Greg Clark (MS Word Document, 22KB)
Published 25 June 2010