Press release
Learning Legacy's 'goldmine of knowledge' kept by Cabinet Office to help other major projects
New website packed with case studies and reports.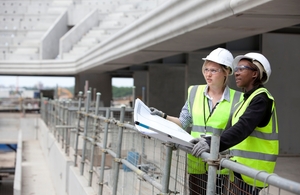 The future of an innovative industry resource designed to ensure that lessons from the successful London 2012 construction programme are retained for other projects has been guaranteed.
The Olympic Delivery Authority's (ODA) Learning Legacy website is packed with case studies and reports based around ten themes, promoting successes in areas including health and safety, sustainability, procurement, transport and project management.
It comprises more than 300 papers put together by the ODA and its supply chain of companies from all over the UK, along with contributions from independent industry bodies and academics. When launched late last year, it marked the first time that a construction project in the UK had sought to capture knowledge on this scale. So far the website has been used by almost 43,000 people – with 35 per cent of visits coming from overseas.
Now the website will continue under the auspices of the Major Projects Authority (MPA), a partnership of the Cabinet Office, HM Treasury and other Departments with the aim of improving the delivery success rate of significant projects across central Government.
The relocation of the Learning Legacy website to a new permanent home from November fulfils a recommendation made by ODA Chairman Sir John Armitt in his report on London 2012's business benefits, published before the Games began.
ODA Director of Venues and Infrastructure, Simon Wright, who has been with the organisation since 2006, said: "The Learning Legacy initiative was created to ensure the lessons of delivering one of Europe's largest construction projects were preserved for future generations. I am delighted it has found its natural home with the MPA, and I hope those charged with delivering significant infrastructure programmes, whether in the public or private sectors, will make use of the intelligence gleaned from working on such a unique challenge."
The Learning Legacy website is also set to expand with new case studies, reports and research papers from the London Organising Committee of the Olympic and Paralympic Games (LOCOG) and some of their partners and suppliers. These will cover topics ranging from carbon footprint and temporary materials to delivering the London 2012 Food Vision, waste management and sustainable sourcing.
David Stubbs, LOCOG's head of sustainability, said: "In addition to our formal transfer of knowledge to the International Olympic Committee and future Olympic and Paralympic host cities, we are determined to support the dissemination of learning to the wider event industry and other business sectors in this country. This is an important part of our legacy and we want other people and organisations to appreciate the challenges, opportunities and value of sustainability in a business situation."
David Pitchford, Executive Director of the Major Projects Authority, said: "The London Olympics were a triumph of project management on a grand scale. Maintaining the Learning Legacy website forms an important part of our plan to apply the lessons of this success to other major projects. Since its creation in 2010, the Major Projects Authority has introduced new levels of scrutiny and assurance to the Olympic project and others like it. There are over two hundred complex schemes underway, some even larger than the Olympics, each vital to the future prosperity and security of this country. The Learning Legacy provides a goldmine of knowledge which we must not waste."
The ODA has worked closely with the following industry and professional bodies on disseminating the lessons learned from its work on the construction of London 2012: Association for Project Management, Chartered Institute of Building, Health and Safety Executive, Institution of Civil Engineers, Institution of Occupational Safety and Health, Royal Institution of Chartered Surveyors, The Institution of Engineering and Technology, The Landscape Institute and UK Green Building Council.
Notes to Editors:
The ten Learning Legacy themes are: Design and engineering innovation; Equality, Inclusion, Employment and skills; Health and safety; Masterplanning and town planning; Procurement and supply chain management; Programme organisation and project management; Sustainability; Systems and technology; Transport; Archaeology.
The majority of themes are broken down into the following sub-sections:
Micro reports: Short examples of lessons learned, best practice and innovations from the construction programme by the ODA, its Delivery Partner, contractors and industry partners.

Case studies: Peer reviewed papers on lessons learned, best practice and innovations from across the Programme by the ODA and its Delivery Partner, the supply chain and industry.

Research summaries: Summary reports of research projects undertaken by academia and industry on the London 2012 construction project. These organisations will also publish full research papers as they are finalised throughout 2012.

Champion products: Examples of tools and templates used successfully on the project

The event-related papers provided by LOCOG and its partners will follow a similar structure. The Learning Legacy website can be found at www.learninglegacy.independent.gov.uk from 1st November 2012, but remains available in the meantime at www.learninglegacy.london2012.com

The event-related papers provided by LOCOG and its partners will follow a similar structure.
The Learning Legacy website can be found at http://learninglegacy.independent.gov.uk/.
Published 21 September 2012