World news story
Leading UK lingerie company gets UKTI support to expand into Central Europe
UK Trade & Investment helps bring Panache to Bulgarian market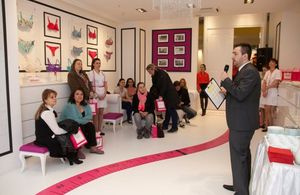 Leading British lingerie company Panache was one of the brands taking part in the Bra Clinic lingerie salon held at the Serdika Center, Sofia on 1 March 2013.
Panache, who have been operating in the UK for over 30 years, were using the event to make their entry into the Bulgarian market after getting help from the UK Trade & Investment team in Sofia.
Following an initial approach by Panache's Export Manager, UKTI helped the company with market entry support, including communications consultancy and involvement from the Deputy Head of the British Embassy in Sofia, Catherine Barber. The team will continue to support Panache as they develop in the Bulgarian market.
Catherine Barber attended the grand opening of the Bra Clinic and delivered a speech supporting the project. She said:
It`s great to see Panache choosing Bulgaria for their first store in Eastern Europe. We're happy to help Panache promote high-quality British products, and a service experience of quality, fit and comfort. We are looking forward to supporting Panache in expanding their presence in Bulgaria.
For more information, please visit Bra Clinic's website and Panache`s website
Published 2 March 2013