World news story
Leading UK Islamic Finance Expert Visits Bishkek
UKTI Catalyst on Islamic Finance visited Bishkek for consultations with senior Kyrgyz state officials and the business community.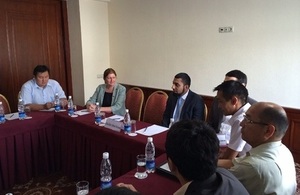 On 8-12 September 2014, Sheikh Bilal Khan, a prominent UK Islamic scholar on finance and Co-Chairman at Dome Advisory LLD, visited Bishkek on the invitation of the Kyrgyz government to exchange ideas on UK-Kyrgyz cooperation in the increasingly important field of Islamic finance.
During his visit, Sheikh Bilal met First Deputy Prime Minister Tayirbek Sarpashev and Mr Nurbek Jenish, Deputy Chairman of the National Bank of Kyrgyzstan. He also made presentations to the Association of Young Entrepreneurs, gave a lecture at the International Ataturk University and interviews to the "5th" TV channel and "Maral FM" radio station.
Sheikh Bilal outlined recent developments in Islamic Finance worldwide and in the UK, where the City of London is establishing itself as a leading global centre of Islamic finance excellence. During his discussions, Sheikh Bilal Khan also learned about steps taken to open up Islamic finance opportunities in Kyrgyzstan.
Sheikh Bilal signed Memoranda of Understanding with the Association of Young Entrepreneurs and with the Association of Islamic Economy and Finance.
At the end of his visit Sheikh Bilal met HM Ambassador Judith Farnworth to discuss opportunities for further governmental, business and education sector cooperation between the Kyrgyz Republic and the UK. The Ambassador thanked Sheikh Bilal for visiting Bishkek and for identifying a range of options for further practical cooperation between the Kyrgyz Republic and the UK, confirming that the British Embassy was keen to facilitate further cooperation between UK and Kyrgyz experts.
Published 16 September 2014