World news story
Launch of new MSc in Maritime Operations and Management in Greece
UK Trade and Investment (UKTI) Greece assisted City University London with the organisation of the launch event and annual alumni reception.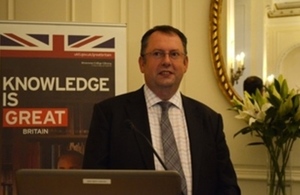 City University London celebrated the official launch of their MSc in Operations Management, which will be delivered at weekends in Piraeus, at the Hellenic Lloyds SA (Lloyd's Register) premises.
The course is designed for existing professionals serving both at sea and onshore, and also those who want to embark on a career in the maritime industries. The course has been developed in partnership with The Honourable Company of Master Mariners.
Education and shipping are 2 sectors that offer significant opportunities for the promotion of UK excellence. They also underline the close commercial and academic ties between the 2 countries.
The launch
The panel discussion, launch and reception took place on 4 June 2015 at the British Ambassador's Residence.
The event kicked-off with a lively panel discussion with the participation of top Greek shipping professionals and the launch of the MSc in Maritime Operations and Management.
In his welcome speech, the Deputy Head of Mission Mr Andrew Staunton noted:
I am glad that we at the British Embassy can support this initiative and would like to congratulate both teams from City University and Lloyds for launching this MSc programme in Greece at this moment.

As more people turn towards a career in shipping, this course will provide them with the depth of knowledge and background required to cope with the responsibilities of a demanding and truly international profession.
Professor John Carlton, Director of the MSc in Maritime Operations and Management programme, said:
This course was first conceived about 15 years ago and has been running for 11 years at City University London. During that time we have taught some 400 to 500 students, many of whom are now in senior positions in the marine industry.

Our students, and indeed the marine industry, have been telling us there are many people here in Greece who would like to take this course but cannot come to London for various reasons. Consequently, from September 2015 we are delighted to be able to offer this Course at Lloyd's Register's Training Centre in Piraeus.
The launch of the MSc in Maritime Operations and Management programme in Greece and panel event was followed by a reception for City alumni.
Professor Dinos Arcoumanis welcomed guests and presented City's ongoing discussions with the University of London about membership. Being part of the federation would bring various academic and reputational advantages, including a strengthening of the City brand, both in the UK and internationally.
City would also benefit from the University of London's international profile and reach, which complements City's existing international recruitment activities.
UK education sector
In Britain, the educational system is fully geared up for the business world, with curricula reflecting the demands of a fast-changing economy.
The British government is committed to skills development and invests over £60 billion on technical, vocational education and training every year. In fact, the UK ranks second in the world for university-industry collaboration.
Universities in the UK contribute about £4 billion to the economy through services to business, including areas such as:
commercialisation of new knowledge
delivery of professional training and consultancy
Contacts
If you are a UK education/vocational training institution looking to expand your business in Greece contact:
UKTI Greece
Tel: +30 210 7272600
Published 9 June 2015