World news story
Launch of new International Shipping Law degree in Greece
UKTI Greece helped organise the official launch of the LLM degree in International Shipping Law, which is now offered in Greece.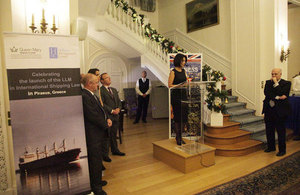 The degree is offered by the Queen Mary University of London in collaboration with the Hellenic Management Centre.
The launch
The launch and cocktail reception took place on 1 December 2014 and brought together representatives of the shipping and legal world. These two sectors offer significant opportunities for the promotion of UK excellence in education and service provision. It underlines the close commercial and academic ties between the 2 countries.
In his welcome speech, the British Ambassador John Kittmer said:
I am glad that the strong, historic links between Greece and the UK in the maritime sector are expanding further in the area of post-graduate education of lawyers and shipping professionals. One of our most distinguished academic institutions, Queen Mary University of London, is setting up in Piraeus, the heart of global shipping, offering to law degree holders and shipping professionals the opportunity to further their qualifications with a world-renowned LLM in International Shipping Law, while carrying on working and without having to relocate. It's a great opportunity for young lawyers and professionals within the Greek shipping community.
About the programme
The programme is accredited by the Institute of Chartered Shipbrokers. It provides a unique opportunity for students and maritime professionals living in Greece to attend without having to relocate. It offers students the opportunity to develop academic and professional expertise in specialized areas of global maritime law including:
dry and wet shipping law
marine insurance
international commercial law
P & I Clubs
charter parties
The programme will be taught by experts from the Centre for Commercial Law Studies. The centre was established more than 30 years ago within Queen Mary University's School of Law. It has become one of the leading institutions for commercial law in the world. The Hellenic Management Centre, based in Piraeus, Greece, has been active in professional education and development within the shipping industry since 1999. It offers education and maritime training programmes for major companies and experienced shipping professionals, designed to upgrade their theoretical and practical grounding.
Further information
Contact the UKTI team in Greece for help and advice expanding your business in Greece.
Published 2 December 2014