World news story
Launch of joint Scientific Seminar Scheme
This was published under the 2010 to 2015 Conservative and Liberal Democrat coalition government
The governments of the United Kingdom and South Africa have launched a joint Scientific Seminar Scheme worth £200,000 (R3.1m).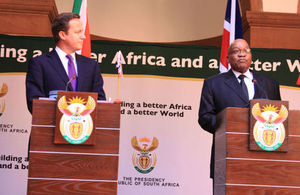 The scheme will run until April 2015. We are inviting bids into the scheme from UK and South African mid-career scientists until 18 February 2014.
This initiative builds on the excellent science and innovation partnership between the United Kingdom and South Africa and supports our shared aim of deepening the cooperation between our respective research and academic communities. For the United Kingdom, this work is led by the Science and Innovation Network in our High Commission in Pretoria and Consulate-General in Cape Town.
The Scientific Seminar Scheme will be implemented by the Royal Society and the South African National Research Foundation, under the auspices of the United Kingdom and South Africa Science and Technology Cooperation Agreement (1995) and funded jointly by the United Kingdom Department for Business Innovation and Skills and the South African Department of Science and Technology. The Scheme was agreed in September 2013 between David Willetts (United Kingdom Minister for Universities and Science) and Derek Hanekom (South African Minister of Science and Technology) at the South Africa-United Kingdom Bilateral Forum held in Cape Town in September 2013.
The aim of the Scientific Seminar Scheme is to fund scientific forums bringing together groups of early to mid-career scientists from South Africa and the United Kingdom. The purpose of these scientific forums is to promote collaboration and knowledge transfer by encouraging interaction within the wider research community. These scientific forums can take place in either South Africa or the United Kingdom. The fund will only pay for networking, not for research.
Full details of the Scheme can be found here: Royal Society website
Document information
Published: 28 October 2013