World news story
Latin American development bank CAF visits the UK
CAF, development bank of Latin America, visited London to meet with the UK government representatives and infrastructure companies.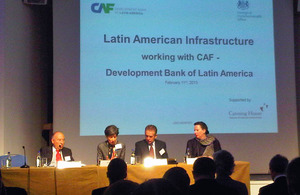 The visit on 11-12 February was a unique opportunity for CAF to highlight its ambitious plans for large-scale sustainable development projects across Latin America, in key areas such as infrastructure, energy, environment and education, among others.
CAF interacted directly with UK industry leaders taking advantage of their expertise across a range of sectors where best practices could be exchanged and collaboration could be deployed.
CAF President Enrique García pointed out the enormous potential for economic and social development across the Latin American region, and that further British and European private investment in these areas would be welcome. In this regard, he underscored CAF's role in acting as a catalyst for trade and investment opportunities in Latin America, as well as in promoting a generation of knowledge and research in the region.
Kate Smith (Foreign Office Director for the Americas) underlined the UK Government's commitment to strengthening ties with Latin America, as outlined in the Foreign Secretary's Canning House Agenda.
As part of the visit, Enrique García met with Lord Green, Minister of State for Trade and Investment, to discuss areas of future cooperation between the UK and CAF.
A delegation from CAF also visited the Olympic Park in Stratford, getting a close up view of the ability for UK companies to deliver impressive large-scale infrastructure projects on budget, on time and with minimal environmental impact.
You can watch a playback webcast of the seminar in London here.
More information on CAF's visit to the UK can be found on their website.
Further information
CAF, development bank of Latin America, is a multilateral development bank, established in 1970, with 18 shareholder countries in Latin America, the Caribbean and Europe. Its headquarters are in Caracas, Venezuela, and it has offices in all member countries. It promotes sustainable development through credit operations, grants and technical support, and offers financial structuring services to public and private partners. CAF has a sterling reputation as a reliable partner, since it is one of the main sources of financing in the region, representing around 30% of the total multilateral lending for Latin America. It approved US$ 50bn over the last five years. CAF will be able to fund projects amounting to over US$ 72bn between 2012 and 2017.
In 2012, the UK Government signed a Memorandum of Understanding with CAF to encourage joint cooperation, including promoting projects and activities in sectors such as infrastructure, energy and education. The visit was part of a Commercial Diplomacy Project, partly funded by the FCO.
Watch this CAF video for more information: Latin America 2040.
Published 12 February 2013