News story
Latest figures offer further good news for Scotland's economy
Scotland's economy performing well as part of the UK, says David Mundell.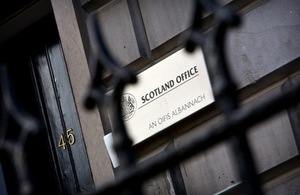 The latest Bank of Scotland's PMI report offers further encouraging news for Scotland's economy.
Commenting on the figures, Scotland Office Minister David Mundell said:
This latest PMI report from the Bank of Scotland provides encouraging news. Firms hiring more staff, manufacturing orders continuing to rise and a growth in the level of new business for Scottish companies all point towards a Scottish economy that is continuing to recover.

As part of the UK Scotland is doing well, our economy is growing faster than anywhere in the G7, the deficit is falling, businesses are becoming more confident and more Scots are in work than ever before. The strong and diverse UK single market is providing stability and certainty for our businesses and jobs and opportunities for hard working Scots and their families. With Scotland's trade with businesses in the rest of the UK continuing to rise it makes no sense to put this all at risk.
Published 12 May 2014