World news story
Delegation of Chilean businessmen in London for Chile Day
The foremost promotion event abroad for Chile's financial and business sectors, Chile Day is being held in London on 13 and 14 October.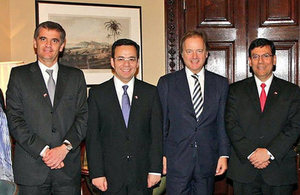 Today, 13 October, the Chilean Minister of Finance, Alberto Arenas, is leading a delegation of more than 200 top Chilean businessmen to London for Chile Day 2014. Chile Day is the foremost promotion event abroad for Chile's financial and business sectors. The delegation also includes Luis Felipe Céspedes, the Minister of Economy, and Rodrigo Vergara, the Central Bank president, as well as the superintendents of pensions, banking and insurance and stocks, the president of the board of Codelco (the state owned copper company) and CEOs of Chilean companies from the finance, energy, retail and forestry sectors. About 200 British businessmen will also take part in Chile Day, showing the interest from the UK in the market as an export and investment location.
Throughout the course of today, the Chile Day conference was held at Mansion House, the seat of the Lord Mayor of the City of London. The event was a chance for stakeholders from the British financial sector, with their strong links to the rest of the global financial sector, to deepen their understanding of Chile and develop business connections. In the evening the Rt Hon Hugo Swire MP, Foreign Office Minister of State for Latin America, will hold a reception for 200 people on the occasion of Chile Day in the Locarno room of the Foreign and Commonwealth Office.
Tomorrow, Chilean authorities and businessmen will open the Stock Exchange in the morning. Later, 100 Chilean and British businessmen will attend a seminar on bilateral investment opportunities, with the aim of increasing investment links in both directions. Finally the afternoon will see Chile Insurance Day at Lloyd's of London, the world's specialist insurance market, to expand UK-Chile links in the insurance sector.
Ministers Arenas and Céspedes will also have a private meeting with Minister Hugo Swire. In addition they will share experience and investigate futher bilateral co-operation prospects in science and innovation, design and tax.
Further information
For more information about this event, contact Karl Zammit-Maempel, Head of Economic Affairs and Climate Change, British Embassy, Santiago.
For more information about the activities of the British Embassy in Santiago, follow us on:
Published 13 October 2014