World news story
Laos through my Eyes - a series of blogs
"Laos through my Eyes" shows the breadth of UK – Laos relations from the perspective of Brits who have lived and worked in Laos.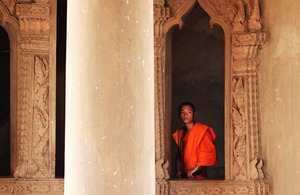 Following a 27-year absence from Laos, the British Embassy in Vientiane reopened its doors in early April. However, despite the absence of a formal British diplomatic presence during this period, UK links with Laos have been thriving across a range of fields, from business and development to arts and sport.
The "Laos through my Eyes" series which begins on our website and blog today aims to illustrate the breadth of the UK's relations with Laos from the perspective of individuals who have lived and worked in, or who have other interesting links to Laos.
Contributors include Anne Keothavong, one of the UK's top women's tennis players who is of Lao origin; author of the Dr Siri series of detective novels set in 1970s Laos, Colin Cotterill; former Governor of Hong Kong, Lord Wilson of Tillyorn, who served as a junior diplomat at the British Embassy Vientiane in the late 1950s; Colin Butters who worked as a technician on the Lao National Radio station in the 1960s, and many other unsung heroes working in development, clearance of Unexploded Ordinance, teaching English, the arts and forging business links.
We will feature one personal contribution to UK-Laos relations per week over the next few months at http://blogs.fco.gov.uk/philipmalone
If you are a British national with an interesting story to tell about your links with Laos, please get in touch with us at: BritishEmbassy.Vientiane@fco.gov.uk
To see our full series of Laos through my Eyes stories please visit our page on the FCO blogs network.
Published 7 May 2013