News story
Key UK trade agency to be based in Reading
A vital new agency to safeguard British industry after Brexit will be based in Reading, as the government prepares for an independent UK trade policy.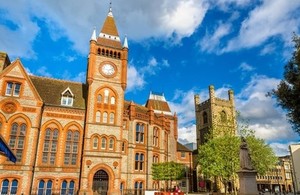 The UK's new Trade Remedies Authority will be based in Reading, the Department for International Trade announced today, as it also began recruiting a new Chair to head the organisation.
Bringing high-skilled jobs to the town, the new agency will take on powers from the EU to investigate unfair trade practices and unexpected surges in imports that harm UK industry.
Trade Minister Greg Hands said:
Leaving the EU gives us an opportunity to build new trade links and reach those markets where demand for UK goods and services are growing.

But our first priority is, and will always be, to ensure that UK industries are safeguarded. With its university, leading businesses and transport links – Reading is the ideal place to host the Trade Remedies Authority to ensure that our future trade is seizing global growth, while supporting jobs at home.
Trade remedies powers
As a member of the EU, UK companies currently have to appeal to the EU Commission to investigate cases where they are being harmed by unfair trade - practices like 'dumping' where imported goods are sold in the UK below their proper value - or by unexpected surges in imports.
The government is introducing legislation to set up a new UK Trade Remedies Authority (TRA), which will take on these powers to investigate unfair trade practices and recommend actions in response, like imposing tariffs (duties) on certain goods coming into the country. The TRA will represent the interests of industries across the UK.
Protecting jobs and trade
The UK imported £478 billion worth of goods in 2017, and the TRA's rulings could cover any of this, protecting thousands of jobs in sectors like manufacturing when imports are providing unfair competition that harms UK industry.
The TRA is a key part of the UK's new independent trade policy, as it prepares to make its own decisions on trade for the first time in over 40 years.
UK exports increased by over 11% in the last year and the Department for International Trade has set up 14 trade working groups with 21 countries from the USA to the Gulf to strengthen UK trade links after it leaves the EU, including through negotiating new trade agreements.
Further information
the TRA will be set up in time for the UK leaving the EU
its powers are being created by the Trade Bill and the Taxation (Cross-Border Trade) Bill, which passed their committee stage in parliament earlier this year

more details on the exact location and staffing of the TRA will be announced in due course.
Published 10 May 2018