Press release
Kent boaters fined for sailing around the registration
Two boaters in Kent have been ordered to pay out after illegally using their boats on the River Medway in Kent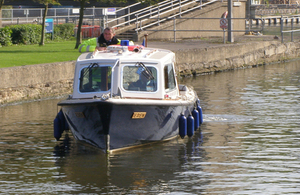 Two men have been ordered to pay a combined amount of over £1150 for illegally using their vessels on the River Medway without valid registrations.
Lyndsay Beadle, of Barnsole Road, Gillingham, pleaded guilty and was fined £135 with costs of £115, a compensation order of £340 and victim surcharge of £20 at Maidstone Magistrates' Court on 5 February after failing to apply for a boat registration. His vessel "Fortuna" was seen on 24 June 2014 at The Riverside Moorings, upstream of Allington Lock without a valid registration certificate displayed. Mr Beadle was made aware he needed to comply with the Environment Agency's boat registration requirements, however he failed to do so.
Also at Maidstone Magistrates' Court on 5 February, Mr Gordon Marshall, of College Avenue, Maidstone, pleaded guilty and was fined £115 with costs of £115, a compensation order of £291 and victim surcharge of £20 as his vessel "Carleys Pride" was used without a valid licence. The vessel was seen on the Medway Navigation at the rear of College Avenue without a valid registrations displayed.
Environment Agency records show that Mr Marshall had submitted the registration application, but had failed to provide payment or a compliant boat safety certificate. A notification was sent to Mr Marshall in July 2014; despite this no registration or fees were received. In his mitigation Mr Marshall apologised to the Court and said that the oversight was his responsibility.
Rebecca Cox, Environment Agency Waterways Officer said:
The revenue we receive from vessel licensing is essential. Without it, we are unable to complete our annual maintenance programme such as lock repairs and dredging, and providing facilities like moorings, toilets and showers.

We are lucky to have such a popular and well known public right of navigation in Kent that is enjoyed by so many. By not complying, the revenue is lost, threatening the future of this great waterway.

The Environment Agency carry out regular patrols on the River Medway, so owners of boats not displaying valid registration plates could face prosecution. It is important that they are aware of and adhere to this requirement. Ignorance is not an excuse.
Published 9 February 2015