News story
Keep warm this winter
Energy and Climate Change Minister Greg Barker is today calling on pensioners and those on low incomes to make sure they've claimed for the …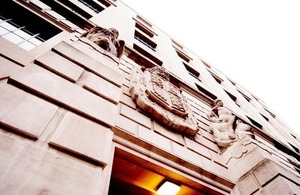 Energy and Climate Change Minister Greg Barker is today calling on pensioners and those on low incomes to make sure they've claimed for the help to which they're entitled to keep warm this winter.
The Government's Warm Front scheme provides grants to people in poorly heated or poorly insulated homes to pay for boiler repairs, new central heating systems and insulation work. Those eligible for help can apply for up to £3,500 towards the cost of the work or up to £6,000 for homes not connected to mains gas.
Greg Barker said:
"With the coldest months of the year fast approaching, there's never been a better time for people on low incomes to pick up the phone and apply for a Warm Front grant. Getting a boiler that works better or even just topping up loft insulation can lead to a warmer, cosier home in the future. It's easy to apply, all you have to do is call 0800 316 6004 and, if you're eligible, the Warm Front team will do all the paperwork for you."
Over the next two years 90,000 people are expected to be helped by Warm Front adding to the 2 million helped since the scheme began in 2000. For those who are eligible the Warm Front team arranges a survey and ensures a package of measures is tailored to each home.
Maria Wardrobe, Director of Communications at fuel poverty charity NEA said:
"The Minister's call for people to seek help to improve the energy efficiency of their homes is welcome as NEA launches its annual Warm Homes Campaign with energy supplier E.ON. We know that the most vulnerable cannot afford the up-front cost of measures and Warm Front continues to be an excellent scheme during the transition to the Government's proposed Green Deal and Energy Company Obligation programmes next year."
Recent letters of thanks to the Warm Front team included:
Mrs Ursula Steele, from Newcastle, who said:
"Just to say thank you so much for arranging for my new boiler to be installed. Both the gas engineer and electrician were polite and very efficient. The boiler is going very well and my house is lovely and warm."
Mrs Doreen Roath, from Birmingham, who said:
"It's so nice to have a warm home and heaven to have hot water."
There is more than £110million of help up for grabs this year and £100million of funding in 2012/13 for privately owned or rented households across England.
The Government is also taking action this winter to help consumers save money on bills by shopping around and switching. People can log on to www.direct.gov.uk/homeenergy for advice on how to Check, Switch and Insulate to Save.
---
Notes for Editors
The Warm Front scheme is one of the Government's key policies for tackling fuel poverty. The scheme is available in England only and to people who receive income-related benefits and live in poorly insulated homes. Further details on the Warm Front scheme can be found on the Direct Gov Warm Front pages. People who received help through Cold Weather Payments (CWPs) last year may be eligible for help. Cold weather payments are given to pensioners who receive pension credit or people on income-related benefits who meet certain criteria.
For information on Warm Front case studies, please contact Carillion press office (Warm Front scheme administrator): Rik Kendall - 0191 245 8342; Rik.Kendall@carillionplc.com
Customers should reference the code WF2011 when contacting the Warm Front team on 0800 316 6004.
The measures provided under the scheme are tailored to each property drawn from the measures listed below:
Insulation measures: * Loft insulation (where suitable). * Draught proofing. * Cavity-wall insulation (some cavity walls are unsuitable and approx one third of properties have solid walls). * Hot-water-tank insulation.
Heating systems: * Repairs to an existing heating systems. * A new gas or oil central heating system. * Electric storage heaters * Electric heaters for bathrooms where electricity is the main heating source * Conversion of a solid-fuel open fire to a modern glass-fronted fire. * Timer controls for electric space and water heaters. * Liquid petroleum gas (LPG) heating systems
There are also other energy advice lines such as the Home Heat Helpline for advice on the help from energy suppliers available at the moment on 0800 336699. Householders can also get advice on the Direct Gov "Check, Switch and Insulate to Save" pages.
Published 17 November 2011