Kaukab Stewart MSP visits SLC during Scottish Apprenticeship Week
Kaukab Stewart, MSP for Glasgow Kelvin visited SLC to mark the end of Scottish Apprenticeship Week.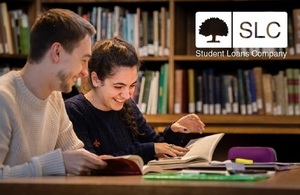 Kaukab Stewart, MSP for Glasgow Kelvin, marked the end of Scottish Apprenticeship Week by meeting apprentices at the Student Loans Company (SLC) in the city centre.
Based on Bothwell Street, SLC has a growing Emerging Talent Programme with over 100 colleagues currently on its apprenticeship, graduate and internship programmes.
Kaukab Stewart said: "I welcome the innovative work of the SLC Emerging Talent Programme, supporting young and older people to train and developing skills for the wider digital economy. I'm particularly pleased to learn about the Career Ready Mentoring Programme and the recognition that people with particular barriers in the labour market are being supported the most in building more equal and diverse opportunities."
During the visit, Kaukab was also given a tour of SLC's new collaboration spaces and Stephen Campbell, SLC's Chief Information Officer, talked about the importance of developing the skills of the workforce and investing in their futures.
He said: "Our apprentices play such an important role in our business. We offer young people the chance to unlock their potential and gain a recognised qualification, as well as valuable experience in the work environment. But we also believe it's vital to develop the skills of our workforce, encouraging their career growth by providing them with the opportunity to upskill. It was fantastic to welcome Kaukab Stewart into our office today during such an important week for apprenticeships in Scotland."
The Scottish Government is committed to increasing the number of apprenticeships in Scotland and Scottish Apprenticeship Week, co-ordinated by Skills Development Scotland, highlights how apprenticeships are providing the skills employers need now and for the future.
Published 11 March 2022