World news story
Joumblatt in Northern Ireland: Lessons in dialogue and patience
Walid Joumblatt visited Northern Ireland for two days, accompanied the British Ambassador to Lebanon Tom Fletcher CMG.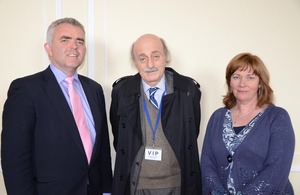 MP Joumblatt met with Northern Ireland First Minister, cross party members of the Northern Ireland Legislative Assembly at Stormont, and key figures involved in the Northern Ireland peace process.
Commenting on his visit MP Joumblatt said: ''If there are any conclusions reached from my visit to Northern Ireland- an invitation kindly extended by the British Ambassador to Lebanon Tom Fletcher who accompanied me- is that it afforded me the opportunity to learn the details of this historical issue through a series of meetings with the President of the House of Representatives and the First Minister, deputies and personalities from both sides.
The conflict, which lasted for five centuries and turned into a bloody conflict after the independence of Ireland South in 1920, was treated through the four main core principles: dialogue, respect, trust and patience. These principles were adopted from a Protestant priest who won the trust of the Catholics, and left a huge impression and influence on me. The experience is important and worthy of drawing lessons and conclusions.
Is it possible to reach a stage in Lebanon where these four principles dominate our political and media discourse instead of the continuous fall in a spiral of mistrust and counter-accusations of treason, defamation and counter slander? The nature of the conflict that existed in Ireland is inevitably different to the nature of the internal Lebanese conflict. However the Irish example provides evidence that the political and historical settlements may be difficult and painful but certainly not impossible.''
Ambassador Tom Fletcher said: "No two peace processes are the same. Lebanon and Northern Ireland are both on political journeys towards genuine power sharing and reconciliation. Walid Joumblatt has been a central figure for decades of Lebanon's political process, and I am pleased that he was able to share many of the lessons, and explore ideas for the future.''
Further Information
The Agreement and the Devolved Institutions
The Agreement reached on Good Friday 1998, often referred to as the Belfast or Good Friday Agreement, continues to underpin the Government's policy in Northern Ireland, and was the culmination of efforts over many years to move Northern Ireland out of the 'Troubles' period and to restore devolved government, which had been suspended with the prorogation of the old Northern Ireland Parliament in 1972.

The Agreement and the subsequent Northern Ireland Act 1998 (as amended a number of times since 1998, particularly following the 2006 St Andrews Agreement) continue to form the basis of the constitutional structure in Northern Ireland.

The negotiations which led up to the Agreement had been divided into 3 'strands':
strand 1 - dealing with internal arrangements of Northern Ireland
strand 2 - dealing with relationships within the island of Ireland (North-South)
strand 3 - dealing with relationships between HM government and Irish government (East-West)
Published 22 April 2013