World news story
Jamie Bowden starts duties as new British Ambassador to Chile
Mr Jamie Bowden has been appointed Her Majesty's Ambassador to the Republic of Chile in succession to Ms Fiona Clouder.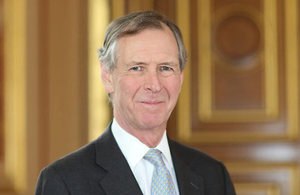 The new British Ambassador to Chile, Mr Jamie Bowden, called on the Acting Director of Protocol of the Chilean Ministry of Foreign Affairs, Mr Patricio Guesalaga, during his first day as Her Majesty's Ambassador to Chile.
The Ambassador's priorities will include trade and investment, defence and security, science and innovation, and promoting a green growth economy.
Regarding his appointment, Mr Bowden said:
I am delighted to be the new Ambassador to Chile, one of the UK's oldest friends. I feel greatly privileged to inherit the legacy of a very old, strong and warm relationship. Chile and the UK share so many values. We both believe in free trade, in the absolute need to tackle the great environmental challenges related to climate change and the degradation of the oceans, and we believe in a rules based international system.

This is an especially exciting moment for the UK-Chile partnership, with unique opportunities to strengthen ties and collaboration, especially in trade and finance, science and innovation, defence and cyber security.

My aim is simple: to make this wonderful friendship between us even stronger and more prosperous than it is now.
Further information
For more information about the events and activities of the British Embassy in Santiago, follow us on:
Published 21 June 2018