Press release
It's Showtime for Highways Agency traffic officers
Highways Agency traffic officers will be 'starring' at motorway service stations across the North West this summer with the message: 'it's good to talk'.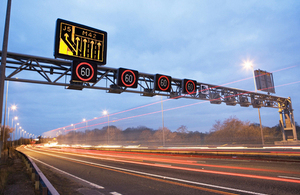 In the latest of a programme of initiatives dubbed 'Operation Showtime' by bosses at the North West Regional Control Centre just off the M6 at Newton-le-Willows, the traffic officers will be stopping off at MSAs to deliver a range of safety messages and journey planning tips to all kinds of motorway users.
Brian Hensby, Highways Agency operations manager in charge of 'Showtime' said:
The whole idea of Showtime is to increase the visibility of traffic officers and take them closer to customers so rather than parking up on a motorway bridge or patrolling the motorway network on these days some of our 'live' patrols will be at MSAs for a few hours and available to chat to drivers.

'Showtime' has been very popular so far with customers and traffic officers alike so our message to drivers and everyone else at the MSAs is come and talk to us and find out a bit more about what we do to keep you safely on the move.
This summer's programme of MSA visits will kick off this Saturday and Sunday (28 and 29 June) with the theme 'Staying safe on the motorways'.
As well as handing out 'Staying safe' leaflets packed with tips for safer motorway driving and advice on what to do if you break down, the traffic officers will be free to chat to customers about the work they do to tackle incidents and keep the motorways safe.
Future weekend MSA visits – each with a safety theme like safer towing or using the hard shoulder safely – will be taking place in July (Saturday and Sunday 19/20 July and 26/27 July) and August (Saturday and Sunday 16/17 August and 23/24 August).
The Highways Agency Traffic Officer Service celebrated its tenth anniversary in the West Midlands in April. The north west service was launched in September 2005.
Staff at the regional control centre manage motorway incidents, respond to calls from emergency roadside telephones, set electronic signs to give drivers incident and congestion advice and monitor CCTV cameras from across the motorway network.
Colleagues of on road traffic officers patrol motorways from six outstations dotted across the region and work to keep drivers on the move by quickly clearing incidents and obstructions from the carriageway as well as assisting the police to manage traffic at serious collisions.
General enquiries
Members of the public should contact the Highways Agency Information Line on 0300 123 5000.
Media enquiries
Journalists should contact the Highways Agency press office on 0844 693 1448 and use the menu to speak to the most appropriate press officer.
Published 25 June 2014