World news story
International Youth Day marked in Macedonia
This was published under the 2010 to 2015 Conservative and Liberal Democrat coalition government
British Embassy Skopje supports the National Youth Council in Macedonia on marking International Youth Day.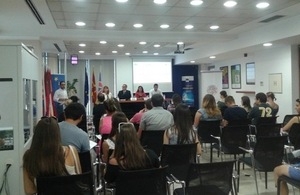 On 12 August in Skopje the International Youth Day was marked, among others, by a public debate devoted to the theme of this year's International Youth Day – Mental Health Matters. The goal of this year's observance is to reduce the stigma related to all those young people having problems with mental health, since youth facing such problems are often labelled, demotivating them from asking help or support.
Panelists at the debate were our ambassador Charles Garrett, Nina Cekic from the Red Cross of Macedonia, Kristijan Bundoski from the European Medical Students Association and Despina Stojanovska, psychotherapist. In his addressing remarks ambassador Garrett said:
Investment in youth is important. I particularly agree with this year's theme, that mental health matters. It matters because it is important that we work on removing the stigma that is often attached to mental health. Young people, just like grown-ups, are very tribal, very competitive in their outlook. And often this translates into leaving people behind or excluding them if they don't match up in every way to "normal" healthy people. But the more society can focus on an individual's ability not his or her disability, the more society will benefit. Why? Because by doing so, we enable an individual to develop and to contribute. And because an inclusive society, one that is supportive and draws in diverse talents and perspectives, is so much stronger than an exclusive, uniform society. Each of us has dreams and goals in life, our own strengths and weaknesses and we need to be enabled to pursue them and fulfil them.
Ambassador Garrett also reflected on the support that the British Embassy is providing to the National Youth Council through the project which brings together British and Macedonian youth organisations to share experience and help civil and political education of youth, awareness raising, building of potential and engagement of youth in democratic processes.
12 August was designated as International Youth Day in 1999 by the United Nations.
Find out more about British Embassy Programme Assistance.
Connect with the British Ambassador on Facebook or twitter @BritAmbCGarrett.
Follow us on Embassy Facebook page or our twitter channel @ukinmacedonia.
Read our blog UK in Macedonia.
Document information
Published: 12 August 2014