World news story
International Holocaust Remembrance Day marked in Macedonia
British Ambassador and Macedonian Foreign Minister host reception in light of international remembrance of the Holocaust.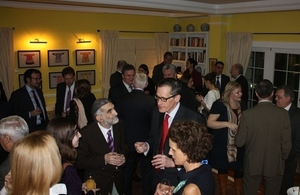 The British Embassy joined the efforts in marking International Holocaust Remembrance Day and marking 70 years of the liberation of Auschwitz in events organised in Macedonia. Historians, researchers, diplomats and other guests discussed the issues of anti-semitism, intolerance and discrimination at the forum in Skopje, underlining the importance of this issue.
Our ambassador Charles Garrett and the Macedonian Foreign Minister Nikola Poposki were joint hosts of a reception for the conference speakers and participants. In his addressing remarks he said:
The events with which we are marking the International Holocaust Remembrance Day take place in an increasingly complex and troubling environment. The events in Paris were shocking but just the latest, and I fear not the last. In that light, there was last week the first ever meeting on anti-semitism at the UN General Assembly. The UK is proud to have co-sponsored it and proud to be associated with the joint statement issued afterwards. Among other actions, it calls on governments to strengthen dialogue with civil society to promote mutual respect, tolerance and understanding between different communities and the "moral imperative" to do this. This is not only the right thing and the moral thing to do. It is also the clever thing to do. Diverse societies which accentuate the positive aspects of living together are always stronger, more stable, more successful. The UK and Macedonia are two countries whose diversity offers up enormous potential benefit.'
The UK is the current Chair of the International Holocaust Remembrance Alliance and will hand over this duty to Hungary in March.
The International Scientific Conference in Skopje on 27 January "Diplomacy and the Deportation of Jews from Macedonia" was hosted at the Macedonian Ministry of Foreign by International Holocaust Remembrance Alliance – Berlin, the Memorial Centre of the Holocaust of the Jews from Macedonia, the Diplomatic Club Skopje and the Institute of National History of Macedonia.
Connect with us on Facebook or follow us @ukinmacedonia
Connect with the British Ambassador on Facebook and @BritAmbCGarrett
Read our blog UK in Macedonia
Published 28 January 2015