World news story
Innovation and growth
British Ambassador Peter Millett attended the Jordan Exporters Association dinner last night, 19 May 2013. The dinner was attended by over 100 guests from the business community.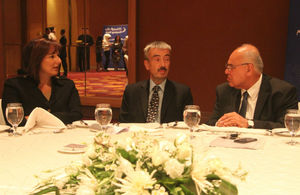 He gave a short speech in which he spoke about 'Innovation and Growth', the key message being the need of a strategy to promote growth.
With most countries facing unemployment, increased energy prices and lack of investor confidence the need for Jordanian businesses to adapt is paramount to success.
Focus on job growth in the private sector, tapping people's potential and the UK offering support and advice to SME's were key messages that the Ambassador focused on. Innovation means new ideas to create social and economic growth.
The Ambassador also highlighted the competitiveness of the rest of the world in particular the far East and India. China had 4.3 Million SMEs in 2010 compared to 100,000 in 1978. Jordan, the Ambassador concluded, must play to its strengths and have vision, passion, determination and resilience.
Published 20 May 2013