World news story
Indian transport sector joins fight to shut down illegal wildlife trafficking
Representatives from across the transport sector in India have joined global leaders in signing the Buckingham Palace Declaration, showing their commitment to fight criminal wildlife trafficking.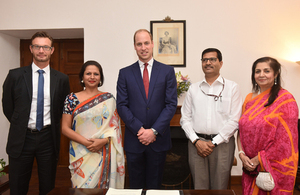 At a ceremony on 11 April 2016 at the residence of the British High Commissioner to India, Sir Dominic Asquith KCMG, three of the biggest shipping and airline companies in India signed the Buckingham Palace Declaration in the presence of His Royal Highness The Duke of Cambridge. The Maersk Group, already a signatory, was also present.
The Buckingham Palace Declaration commits signatories to eleven commitments that will raise standards across the transportation industry to prevent traffickers from exploiting weaknesses as they seek to covertly move their products from killing field to marketplace. The commitments focus on information sharing, staff training, technological improvements, and resource sharing across companies and organisations worldwide.
The Buckingham Palace Declaration was developed by the United for Wildlife International Taskforce on the Transportation of Illegal Wildlife Products. Released at a signing ceremony on March 15 at Buckingham Palace the Declaration, hailed by The Duke of Cambridge as 'a game changer in the race against extinction', is now drawing support from across the globe. Already over 40 CEOs, Chairmen, and other leaders of airlines, shipping firms, port operators, customs agencies, intergovernmental organisations and conservation charities from around the world have signed the Declaration.
The British High Commissioner to India, Sir Dominic Asquith, KCMG, said:
The illegal wildlife trade is a serious organised crime that undermines rule of law, facilitates corruption and steals valuable resources from some of the world's poorest communities. During Prime Minister Modi's visit to the UK last November, the UK and India resolved to work together to combat the illegal wildlife trade. We are delighted to welcome Air India, Jet Airways and Apeejay Shipping as new signatories to the Buckingham Palace Declaration, and thank them and the Maersk Group for their support in tackling this global crime.
Ashwani Lohani, Chairman and Managing Director, Air India said:
Air India as a national carrier is committed to zero tolerance of illegal transportation of wild life from India on Air India flights. All the cargo consignments/passengers' baggage, etc. are checked at the entry level and the front line staff are well aware to stop such illegal transportation at the first point of contact.
Karan Paul, Chairman of Apeejay Shipping said:
The illegal wild life trade is a direct threat to species and goes against stability & diversity of our biosphere. Apeejay Shipping, as a major sea transportation service provider, commits its fleet and our people to being vigilant and to using our information networks globally to break the supply chain of illegal commercial trade in wild life, wild life parts and products. Our tea plantation company Apeejay Tea and Typhoo Tea are investing in Human Elephant Conflict mitigation in Assam and are committed to conserving wildlife and their habitat. We are happy to join the Buckingham Palace Declaration and we hope the international pact will have a measurable and meaningful impact.
Chairman of Jet Airways, Naresh Goyal, said:
Jet Airways has always been at the forefront in implementing best practices in the aviation industry. As a responsible corporate citizen, we recognise the universal concern for wildlife conservation and taking proactive action against the global scourge that is the illegal trade of wildlife. By signing up to the Buckingham Palace Declaration, Jet Airways commits itself to partner with a global initiative and contribute towards the eradication of the illegal wildlife trade. This collective action will go a long way in ensuring the preservation of our fragile wildlife ecosystem.
Franck Dedenis, Managing Director, Maersk Line India and Sri Lanka said:
We welcome the Duke's efforts to raise awareness on this in India. Maersk Line has a zero tolerance towards illegal transport of wildlife. By signing the Buckingham Declaration, we are committing to take real steps across our operations including India, to shut down the routes exploited by traffickers of the illegal wildlife trade moving their products from killing field to marketplace.
He added:
The initiative overall further strengthens our ability to get valuable intelligence on routes and ports with higher risk of illegal activity in and around India as well as to screen data and cargo in order to identify potential shipments of suspected illegal wildlife.
Further information
United for Wildlife: United for Wildlife is an alliance between seven of the world's most influential conservation organisations and The Royal Foundation of the Duke and Duchess of Cambridge and Prince Harry. The collaboration between Conservation International (CI), Fauna & Flora International (FFI), International Union for Conservation of Nature (IUCN), The Nature Conservancy (TNC), Wildlife Conservation Society (WCS), WWF-UK, the Zoological Society of London (ZSL) and The Royal Foundation hopes to lead the way to substantially increase the global response to major conservation crisis.
United for Wildlife hopes to bring attention to acute conservation problems, the most pressing of which, as agreed amongst the collaboration, is the rapid escalation of the illegal wildlife trade. This trade is having a devastating effect on wild populations of some of the largest and most iconic species: elephants, rhinos and tigers, plus lesser known animals such as the pangolin.
The work of the United for Wildlife Transport Taskforce has been strongly supported not only by the transport sector but a number of intergovernmental agencies including the World Customs Organisation, the United Nations Development Programme and importantly the Convention on Illegal Trade in Endangered Species of Flora and Fauna (CITES) – the world's regulatory instrument on trade in endangered species. United for Wildlife will now turn its attention to the implementation of the commitments.
The commitments in the Buckingham Palace Declaration include:
developing information sharing systems for the transport industry to receive credible information about high risk routes and methods of transportation

supporting a secure system for passing information about suspected illegal wildlife trade from the transport sector to relevant customs and law enforcement authorities

notifying relevant law enforcement authorities of cargoes suspected of containing illegal wildlife and their products and, where able, refuse to accept or ship such cargoes.
Air India: Air India occupies a special place in the global and Indian aviation scenario. It pioneered the aviation in India and its history is synonymous with the history of civil aviation in India. Air India is not a mere airline that transports passengers, baggage and cargo. It is a multi-faceted organization. The aviation infrastructure it has created over the years is a testimony of its contribution. Apart from servicing of all its aircraft in-house with its own engineering facilities, Air India also undertakes ground handling services of many airlines in many cities in India. Air India has grown to become a mega international airline with a network of 36 destinations across the USA, Europe, Far-East and South-East Asia and the Gulf. The airline's domestic network covers 54 destinations, including far-flung areas of the North-East, Ladakh, Andaman and Nicobar Islands. Air India, today, flies one of the youngest, state-of-the-art, fleet of aircraft comprising a mix of the wide-body Boeing B777s, B747s, its latest acquisition- the B787 Dreamliner and the narrow body Airbus A321s, A320s and A319 aircraft.
Apeejay Shipping Limited: Established in 1948, Apeejay Shipping Limited, An Apeejay Surrendra Enterprise, is amongst India's largest privately owned shipping companies with a fleet of dry bulk carriers operating worldwide and on the Indian coastal trade.
Jet Airways: is India's premier international airline operating flights to 68 destinations, including India and across the world. Jet Airways' robust domestic network in India spans the length and breadth of the country covering metro cities, state capitals and emerging destinations. Beyond India, Jet Airways operates flights to key international destinations in South East Asia, South Asia, Middle East, Europe and North America. The Jet Airways Group currently operates a fleet of 116 aircraft, comprising Boeing 777-300 ERs, Airbus A330-200/300, Next Generation Boeing 737s and ATR 72-500/600s. With an average age of 6.91 years, this is one of the youngest fleets in the region.
JetPrivilege, the award winning loyalty and rewards programme offers exclusive privileges to members when they travel Jet Airways and any of its partner airlines and on transacting with any of the 150+ programme partners. Jet Airways together with Airberlin, Air Serbia, Air Seychelles, Alitalia, Etihad Airways, Etihad Regional operated by Darwin Airline, and NIKI, participates in Etihad Airways Partners, which brings together like-minded airlines to offer customers more choice through improved networks and schedules and enhanced frequent flyer benefits.
The Maersk Group: strictly enforces the ban on transport of illegal wildlife. Maersk Line will lead this initiative on behalf of the Group. It will put up a zero tolerance policy on its website soon and will roll out awareness and compliance training programs for its employees in India. It will also collaborate with other local ecosystem partners to develop and implement mechanisms that enable the transport sector to receive improved information about the transport of suspected illegal wildlife and related products, including methods of transportation, key routes, ports and other locations.
Follow The Duke and Duchess of Cambridge's visit to India and Bhutan on:
Twitter @UKinIndia #RoyalVisitIndia
Whatsapp: save the number +91-9654141882 to your contacts and send 'hello'
For media queries, please contact:
Stuart Adam, Director,
Press and Communications
British High Commission,
Chanakyapuri, New Delhi 110021
Tel: 44192100; Fax: 24192411

Follow us on Twitter, Facebook, Flickr, YouTube, LinkedIn, Storify, Eventbrite, Blogs, Foursqare, Instagram, Snapchat @UKinIndia, Periscope @UKinIndia, Vine
Published 11 April 2016