World news story
Indian engineering entrepreneurs trained in UK under joint initiative
The fifth cohort of Indian engineering entrepreneurs have returned from the UK-based Leaders in Innovation Fellowships programme.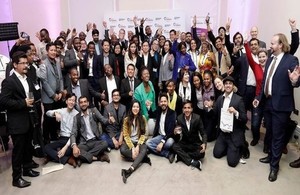 Leaders in Innovation Fellowships (LIF) is a two-week training and mentorship boot camp at the UK Royal Academy of Engineering - jointly funded by the UK and partner countries - that supports budding entrepreneurs in marketing their innovations.
Whilst in the UK, entrepreneurs benefitted from a panel of mentors, comprising Royal Academy Fellows, business leaders and academia. They received feedback on their innovations and tips on effective business proposals. On their return to India, they are further supported through six months of remote mentoring and given access to bespoke events as well as the Academy's global community of 900+ entrepreneurs.
This year's cohort marks the fifth successful year of the programme. Since its launch in 2014, LIF has provided support and training to 83 engineering researchers from India, helping them build and expand their entrepreneurial skills which are needed to make their businesses a success. It has also helped alumni raise additional funds, expand their teams and operations, and build successful collaborations with LIF fellows from both India and beyond.
The LIF is delivered by the UK Royal Academy of Engineering and supported by the Newton-Bhabha partnership with the Indian Government's Department of Science and Technology and IIM Ahmedabad's Centre for Innovation Incubation and Entrepreneurship through the LIF programme.
Sarah Mooney, Head of Science and Innovation, British High Commission in India, said:
Leaders in Innovation Fellowship has been a hugely successfully scheme under our flagship Newton-Bhabha programme. For the last five years we have been working with the most talented Indian researchers to address real world issues around commercialisation of innovation, and to build links between academia and industry.
Dr. Hayaatun Sillem, CEO of the Royal Academy of Engineering, said:
Over the past five years LIF has provided commercialisation support to over 80 outstanding engineering entrepreneurs from India, all of whom share a drive to help make the world a better place.
Harkesh Mittal - Head, National Science & Technology Entrepreneurship Development Board, DST said:
Commercialisation of research remains a challenge world over and as a result fruits of research are not harvested in the potential quantum. The Leaders in Innovation Fellowships programme has been able to address this by providing capacity building of Indian innovators and researchers.
Since 2014 over 800 LIF fellows across 16 countries, including India, have benefited from commercialisation training, one-to-one mentoring and bespoke remote support. The alumni of the programme have raised over £52 million in additional funding for the commercialisation of their innovations and to contribute to the sustainable development of their countries.
Further information
The Newton-Bhabha fund is a partnership that brings together UK and Indian scientists, researchers and innovators to find joint solutions to global challenges. It is delivered by 7 UK delivery partners in collaboration with their Indian counterparts through equal partnership and matched resources.
Working with a select number of partner countries, the Royal Academy of Engineering's LIF programme builds the capacity of researchers for entrepreneurship and commercialisation of their research, and creates international networks of innovators and technology entrepreneurs.
Royal Academy of Engineering
As the UK's national academy for engineering and technology, we bring together the most successful and talented engineers from academia and business – our Fellows – to advance and promote excellence in engineering for the benefit of society.
Pitches from the 22 February event, including entrepreneurs from India, South Africa, Kenya and The Philippines.
The following are examples of some success stories of LIF in India:
Christopher Rosario runs a plastic (PET) recycling system that uses the Internet of Things (IoT) to remotely manage and monitor key recycling hubs. Since taking part in LIF, Chris has secured backing for his project from the Government of India and been awarded approx. £387,000 to support its development. Chris has partnered with another LIF fellow who is his key IoT technology provider and is now rolling out his innovative plastic bottle recycling solution to several cities in India, reducing pollution and providing jobs for the disadvantaged.
Amit Kumar Jain's is a budding bio entrepreneur who was chosen for Leaders of Innovation Fellowship. His owns a company Bijson which is a waste-to-energy bio-technology company, has secured its first sales in India worth £25,0000 and had 3 projects accepted by the US government, a deal potentially worth £60 million.
Neerav Parekh founded vPhrase, a company that uses patent protected artificial intelligence software to extract information from large, unstructured datasets and automatically translate key insights from the data into words. vPhrase won UK Royal Academy of Engineering's the prestigious Leaders of Innovation Fellowship. It has been independently recognised by the Economic Times, the Hindu Business Line, and NASSCOMM as one of the top AI start-ups in India.
Media
For media queries, please contact:
Sally Hedley, Head of Communications
Press and Communications, British High Commission,
Chanakyapuri, New Delhi 110021
Tel: 24192100; Fax: 24192400

Mail to: Ishan Bhatkoti
Follow us on Twitter, Facebook, Flickr, Eventbrite, Blogs, Youtube, Instagram
Published 26 February 2019