Press release
Increased sentence handed to violent Penzance rapist
After reference from Solicitor General, Court of Appeal increases sentence of Lee David Hosking from 9 and a half years' imprisonment to 13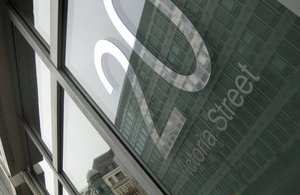 The Court of Appeal has today increased the sentence given to Lee David Hosking from 9 and a half years' imprisonment to 13 years for a brutal and sustained rape attack on a Penzance woman in 2008.
Speaking after the case today, the Solicitor General, Oliver Heald QC MP, who asked the court to reconsider the sentence said:
This was an appalling incident in which the victim was repeatedly raped in a seemingly random act of extreme violence. She was in fear of her life and lived for years without seeing her attacker brought to justice.

I asked the Court of Appeal to look again at this sentence, because Hosking committed a merciless crime which I felt merited a higher sentence. I hope this increased sentence offers some measure of reassurance to the public and a degree of comfort to the victim.
Background
In 2008 the victim was enjoying an evening out in Penzance with friends. At about 4am she stood by her car to eat some food when she was grabbed from behind by Lee Hosking. Her hair was pulled and her mouth covered making it difficult to breathe. She was attacked and subjected to multiple and brutal rapes. She was caused immense pain and feared for her life. She was thrown to the floor and Hosking stamped on her hand, she was left traumatised and had multiple cuts, bruises, swellings and abrasions all over her body, she still bears scars today. The case went cold and Hosking was only arrested some years later as a result of diligent police work and DNA analysis. He was sentenced on 27 January 2014 in the Crown Court at Truro by His Honour Judge Christopher Harvey Clark QC to imprisonment for nine and a half years. That sentence was reviewed under the Unduly Lenient Sentence (ULS) scheme today.
Published 14 March 2014