World news story
Increase in UK funded scholarships for Lao students in 2015
British Embassy announces increase in Chevening scholarships to Laos as it bids farewell to 2014 scholars.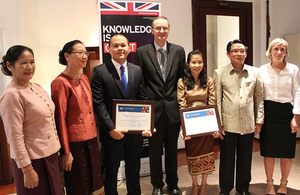 On Tuesday, Ambassador Philip Malone announced a big increase to UK funded scholarships to Laos, making nine Chevening scholarships now available from next year. The announcement was made during a farewell reception for the 2014 Chevening scholarship recipients, Mr Khachonesack Douangphoutha and Ms Phetmany Xaychaleune, before they head to the United Kingdom to start their one year Master degrees.
The reception, held at Green Park Hotel in Vientiane, was attended by HE Dr Vilayvong Bouddakham, Secretary General for Lao Youth Union, HE Mme Sengdeuane Lachantaboun, Deputy Minister of Education and Sports, and HE Mme Khamphao Ernthavanh, Permanent Secretary for the Ministry of Foreign Affairs, HE Mrs Singkham Khongsavanh, Vice Governor of Vientiane Province as well as a range of UK alumni and other distinguished guests.
The Chevening Scholarship programme, funded by the UK Foreign and Commonwealth Office (FCO) and partner organisations, operates in 144 countries and territories worldwide awarding scholarships to exceptional individuals with leadership potential. The programme offers a unique opportunity for awardees to build a global network of continuing professional significance, enabling talented individuals to establish social, cultural, academic or commercial partnerships with the UK.
The Chevening programme has operated in Laos for nearly 20 years and there are currently around 20 Lao Chevening alumni, working in a range of leadership positions in their chosen field.
Whilst presenting the awardees with their scholarship certificates, Ambassador Philip Malone said:
I am delighted to be presenting these awards to our two Chevening scholars here today. It is a great achievement to have been selected for these awards. The UK is a world leader in education and we hope you use this opportunity to bring back new skills and perspectives for the future benefit of the Lao PDR.

Education is the foundation to the development of any country and I encourage all interested people to follow in the footsteps of our two young scholars and our Chevening alumni in attendance today, by applying for the current call for Chevening applications.
Departing for the UK later this month, Mr Khachonesack will study for an MSc in Information Systems and Business Analysis at Aston University, while Ms Phetmany will attend the University of Warwick to study for an MSc in Intercultural Communication for Business and the Professions.
The announcement from the UK government increasing the number of scholarships available to candidates from the Lao PDR, means that from 2015 onwards nine scholarships will be on offer. This has been made possible through an increase in UK funding as well as new partnerships with Warwick University and the Prudence Foundation. Applications for the Chevening Scholarships 2015/16 are currently open until 15 November 2014. Further information on the programme can be found at Chevening website.
Published 4 September 2014