World news story
In memory of Rebecca: The Rebecca Dykes Chevening Scholarship
In loving memory of Rebecca Dykes, a commemoration ceremony was held at St Elie Church.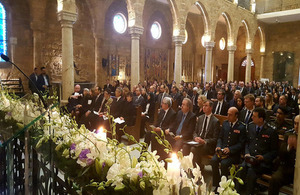 The service was attended by British Ambassador Hugo Shorter, embassy staff and Rebecca's family. Also present were Minister of State for Women Affairs Jean Ogassapian representing President General Michel Aoun and Prime Minister Saad Hariri, MP Yassine Jaber representing Speaker of Parliament Nabih Berri, Brigadier General Omar Murad representing Lebanese Army Commander General Joseph Aoun and Minister of Defense Yacoub Sarraf, Colonel Imad Dimashkiyeh representing Surete General Director General Major General Abbas Ibrahim, General Elias Toubaji representing ISF Director General Brigadier General Imad Osman, in addition to ambassadors, ministers, embassy friends, and partner organisations who Rebecca worked with during her time in Lebanon.
Guests were welcomed by the Archbishop of Beirut Bishop Boulos Matar, representing Maronite Patriarch Bechara El Rai. The order of service included a tribute to Rebecca's life, her work in Lebanon, the values she lived for and testimonials from friends and partner organisations. Ambassador Shorter also spoke about the Rebecca Dykes fund and announced 'The Rebecca Dykes Chevening Scholarship' that will be granted each year to a female Lebanese or Palestinian residing in Lebanon to pursue her Masters Degree in the UK in subject areas related to Gender Studies, Peace and Conflict Studies, Development and Human Rights and Refugee and Migration Studies.
For her legacy to be made known to others working in the humanitarian field, Rebecca's family hopes to raise sufficient funds to establish the Rebecca Dykes Foundation, which will focus on humanitarian and stabilisation work for refugees and other vulnerable communities, with a particular emphasis on female empowerment and the prevention of violence against women. For donations, you can visit Rebecca's JustGiving page
Published 7 February 2018