Press release
Improvements for A38 Harcombe Bridge near Chudleigh
A vital maintenance scheme for Harcombe Bridge on the A38 near Chudleigh, will start at the end of this month.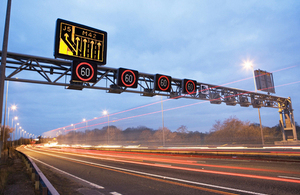 The £810,000 project will replace worn waterproofing, expansion joints, parapets, barriers and include laying a new road surface and markings. It will involve a one-and-a-quarter mile stretch of carriageway in both directions between Chudleigh Station junction and Belvedere Cross Bridge.
Work is due to start on 27 April and complete in June.
Highways Agency project sponsor, Mike Hillier, said:
This scheme, which is part of record roads investment, will secure the future of Harcombe Bridge for years to come. We have designed the scheme to allow two lanes running in both directions which should significantly ease possible traffic congestion at the site.

The scheme will reduce the need for lane closures to carry out short term repairs, meaning less disruption on the A38 and reduced journey times and costs for businesses in the South West.
Narrow lanes will be put in place on Sunday 27 April during the May Bank Holiday weekend to allow preparatory work to take place. Two lanes will still be open to traffic in both directions so there are not expected to be any additional delays for holiday traffic.
During the daytime work, a contraflow system will be in operation with narrow lanes. A temporary 40mph speed limit will be enforced for the safety of workers and road users. Occasional overnight closures will also be necessary to complete the work and these will be publicised in advance. Cyclists will be prohibited from using this section of the A38 for their own safety.
During the overnight closures, westbound traffic will be diverted onto the A380 and B3195 to Kingsteignton and the B3193 to rejoin the A38 at Chudleigh Station junction. Eastbound traffic will follow this route in reverse.
Cyclists travelling westbound will be diverted to the exit slip road at Harcombe to the B3344 through Chudlleigh rejoining the A38 at Chudleigh Station junction. Cyclists travelling eastbound will follow the route in reverse.
General enquiries
Members of the public should contact the Highways Agency Information Line on 0300 123 5000
Media enquiries
Journalists should contact the Highways Agency press office on 0844 693 1448 and use the menu to speak to the most appropriate press officer
Published 17 April 2014