Press release
Improvements at M50 junction 1 near Twyning Green, Gloucestershire, postponed
Planned roadworks on the M50 junction 1 near Twyning Green, Gloucestershire, which were due to start on Monday 10 November have been postponed.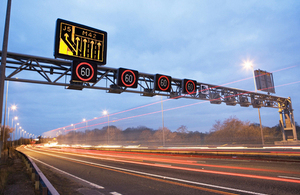 The scheme, which was due to last until the end of March 2015, will now be reviewed to see how it can be delivered to cause less disruption to road users.
The work will include repairing an embankment and installing a new safety barrier, drainage, road markings and traffic signs. The hard shoulder will be resurfaced.
Originally the work was due to take place from 7am to 5pm Mondays to Saturdays and required a full closure of the junction 1 exit slip road, the hard shoulder and lane one of the main carriageway.
Highways Agency project manager Purnima Kaul said:
Following feedback from local stakeholders we will review how the scheme can be delivered better. We always aim to cause minimal disruption and hope to be able to start work as soon as possible so road users can benefit from the improvements.
A new start date will be announced in due course.
Published 7 November 2014