Press release
Improved road surface on the M1 and A1 northbound, London
A package of work begins next Monday (7 April) to improve the surface of the northbound M1 and A1 in London, resulting in smoother journeys.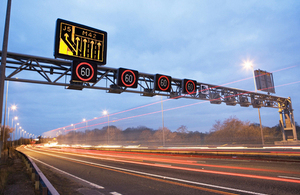 The improvement work will begin overnight on Monday on the M1 northbound between junction 6, with the A405, and junction 6a, with the M25 and will complete on the morning of Tuesday 15 April.
Once completed, work will then start on the A1 northbound between Stirling Corner Roundabout and the M25 junction 23 on the evening of Tuesday 15 April and finish on the morning of Friday 9 May. This work is being carried out as part of the government's commitment to support the economic recovery by improving England's roads.
Highways Agency Asset Manager Stephen Hall said:
The improvement work will involve repairs and resurfacing on the M1 and A1 northbound which will maintain safety and result in smoother journeys which will benefit all drivers who use the roads to leave London.

We have planned the work to minimise disruption and that is why it will all take place overnight when traffic flows are lowest. In order to carry out the repairs and resurfacing, the M1 or A1 will be closed overnight with clearly signed diversion routes in place so that road users can continue their journeys.
Work will take place between 10pm and 5.30am Monday to Thursdays and between 11pm and 6am on Fridays. No work is planned to be carried out over the weekend.
When work is being carried out on the M1 northbound, road users will be diverted via A405 North Orbital Road, through Chiswell Green to the Park Street Roundabout, then onto the A414 to rejoin the M1 at junction 8. When work is being carried out on the A1 northbound, road users will be diverted via the A411 Barnet Road, A1000 High Street and A1081 St Albans Road back onto the A1. Heavy goods traffic will be diverted from Stirling Corner onto the A411 Eastbound, A1000 Barnet Hill southbound, A1000 Pricklers Hill, A1000 High Road, A109 Oakleigh Road North eastbound, B1453 Russell Lane, Osidge Lane, A111 Chase Side, A111 Cockfosters Road to junction 24 and return anticlockwise to junction 23. Access from local roads to the A1 will be maintained throughout with clearly signed access routes in place.
General enquiries
Members of the public should contact the Highways Agency Information Line on 0300 123 5000
Media enquiries
Journalists should contact the Highways Agency press office on 0844 693 1448 and use the menu to speak to the most appropriate press officer
Published 3 April 2014