Immediate halt on 'ports tax'
Emergency regulations are being introduced today to put a halt on demands for unfair, retrospective business rate payments affecting ports, …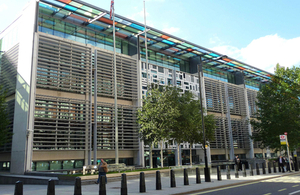 Emergency regulations are being introduced today to put a halt on demands for unfair, retrospective business rate payments affecting ports, announced Communities and Local Government Secretary Eric Pickles.
Many ports companies have been facing huge backdated business rates bills reaching into the millions after changes to the way rates were calculated in 2008 by the Valuation Office Agency.
As an urgent first step, the new regulations will suspend unexpected backdated business rate payments, including for port companies, giving a lifeline to struggling firms and supporting a vital part of Britain's manufacturing industry.
The payment freeze will be funded from the £6billion public sector savings announced by the Chief Secretary on Monday.
In addition, the Government will pledge to continue to explore options up to and including primary legislation to offer ports companies permanent relief from backdated bills.
Eric Pickles said:
Backdated port taxes levied on a vital part of Britain's export industry have left many businesses unfairly facing hefty bills, reaching into the millions in some cases.

Today I am introducing a suspension of the collection of this ports tax grab, offering immediate help to firms struggling because of this unfair, unjust tax.

I will not allow Government to idly look on any longer as vital businesses stare into the face of insolvency as a result of the ports tax, and today we're making good on our promise to act.

We are clear we should be supporting the economy not forcing people out of business.
Local Government Minister Bob Neill added:
It is vital to the nation that we set things right and stop this nonsensical situation affecting the livelihoods of thousands.

This payments freeze is an urgent first step that will mean struggling firms have one less thing to worry about in these difficult times, and we will continue to work towards a sensible and fair long term solution.
Notes to Editors
Backdated business rate demands were issued to many port businesses following a ports review completed by the Valuation Office Agency (VOA) in 2008.
The Government is taking this step as it is aware that certain backdated business rates bills have come during a difficult economic period, and concerns have been expressed particularly about the potential impact on some businesses located in ports.
Backdating is a general part of the rating system and businesses other than those based in ports would have received backdated rates liabilities in 2008 as well. Hence the freeze is available to all ratepayers that meet the criteria.
The freeze applies to businesses liable for backdated business rates where bills are subject to the 8-year schedule of payments. Businesses can contact their local billing authority to check eligibility.
Twitter
Keep up to date with the Department by following us on Twitter (external link).
Media enquiries
Visit our newsroom contacts page for media enquiry contact details.
Published 27 May 2010