Press release
Illegal anglers netted in Durham operation
7 anglers banned following undercover operation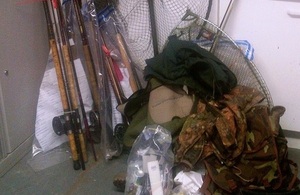 7 north east anglers have been banned from fishing following an undercover operation to crack down on illegal fishing methods.
The men were caught following a joint operation between the Environment Agency and Durham Police on a stretch of the River Wear.
Between April and November this year, magistrates in County Durham imposed a range of penalties on those caught in the operation, including banning defendants from holding rod licences for between 12 months and 2 years, after they pleaded guilty to offences under the Salmon and Freshwater Fisheries Act.
Thousands of pounds worth of fishing equipment was also ordered to be destroyed after being confiscated.
The court heard that enforcement officers carried out undercover night-time surveillance which caught a number of men fishing illegally using a method called "stroke hauling". They were using a hook which impales the fish's body or head.
If the fish had managed to escape the hook, it could have left them susceptible to diseases and they may have even died before reaching their spawning grounds.
Environment Agency Fisheries Enforcement Team Leader Kevin Summerson said:
The fines, fishing bans and orders for equipment to be destroyed should send out a warning to all those who are considering breaking angling laws – we could be watching you!

Poachers are not just taking 1 or 2 fish. They are frequently taking large numbers that are often sold on for profit. The methods they use can have a dramatic affect on wildlife and cause serious damage to already threatened fish stocks.
If you have any information about illegal fishing, or you are offered fish for sale which you suspect has been obtained illegally, call the Environment Agency's 24-hour hotline on 0800 80 70 60 or Crimestoppers on 0800 555 111.
Published 30 December 2014