Huhne: No hiding place for Whitehall energy waste
Greener, transparent government took a step forward today with two ministries displaying their energy use in real-time, on-line, for the first…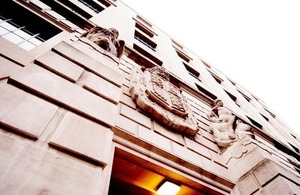 Greener, transparent government took a step forward today with two ministries displaying their energy use in real-time, on-line, for the first time.
The Department of Energy and Climate Change and the Home Office will be followed by all central government HQs in the coming months, making good on a promise made by Prime Minister David Cameron only three weeks ago.
Real-time on-line energy display is part of the Government's commitment to cut carbon emissions from central government by 10% in the next year. From today, the energy used to heat and light DECC and the Home Office will be persistently updated on-line in units of energy, cost and carbon.
Energy and Climate Change Secretary The Rt Hon Chris Huhne MP is leading the drive to reduce Whitehall's emissions by 10% and will today chair the cross-Whitehall and private sector working group on greening government. He said:
We're opening up Whitehall's electricity and gas meters to public scrutiny. There can be no hiding place for energy waste in central government.
Cutting energy use saves carbon and it saves taxpayers' money. Only by leading by example can we expect businesses and homes up and down the country to follow suit.
Lynne Featherstone MP, minister responsible for sustainability in the Home Office said:
The energy tracker will enable the public to see how the Home Office is working towards being a more energy efficient department while reducing its carbon footprint.
This demonstrates the government's commitment to transparency and will allow the public to see how much we are spending on gas and electricity in real time. This will also drive efficiency and ensure we are delivering value for money.
You can find the displays at www.decc.gov.uk and www.homeoffice.gov.uk
More information on real-time energy use is also available on the DECC website.
Notes to editors
On 31 May the Prime Minister set out an ambitious plan to open up data and set challenging deadlines for public bodies to make information available to the public through the www.data.gov.uk portal.
The Prime Minister also announced on 14 May that government departments would cut their emissions by 10% in twelve months and publish the energy use from their HQ buildings in real time online so that the public can hold ministers and civil servants to account for their carbon emissions - http://www.decc.gov.uk/en/content/cms/news/pn10_059/pn10_059.aspx
The display shows the amount and cost of energy used in 3 Whitehall Place at five second intervals. It also shows what this means in terms of carbon. The information gathered, which relates to electricity and gas use, is used, on the DECC homepage, to put together a picture of energy used over the course of the last 24 hours. This shows peaks in demand and when demand is at its lowest.
DECC is piloting this prototype and other departments are expected to have this technology in the next few months, learning from DECC's feedback. After an initial period of use, the DECC energy display will be further developed. We expect the project to produce open source components that will allow other organisations to benefit from DECC's work.
The Home Office are also launching a different model of real time energy display energy today which they will be trialling which can be found at www.homeoffice.gov.uk
Published 10 June 2010