News story
Huhne heralds green homes revolution
**£3 billion energy wasted annually ** Up to 100,000 insulation jobs by 2015 Thousands of new insulation workers will…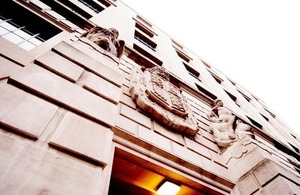 **£3 billion energy wasted annually **

Up to 100,000 insulation jobs by 2015
Thousands of new insulation workers will soon be hitting Britain's streets as part of a national effort to make people's homes warmer and cheaper to run.
The Rt Hon Chris Huhne MP, Energy and Climate Change Secretary, today said that by 2015 up to 100,000 Green Deal workers could be employed in the effort to upgrade Britain's homes. Currently around 27,000 work in the insulation industry. Legislation to start the process of establishing the Green Deal is due to be introduced into Parliament next month.
The Green Deal is the Government's new and radical way of making energy efficiency available to all, whether people own or rent their property. The work to upgrade the property will be paid back from the saving on energy bills.
The Rt Hon Chris Huhne MP, visiting British Gas' Energy Academy in Thatcham, said:
"The Green Deal's about making people feel as warm as toast in their homes. I want Britain to say goodbye forever to leaky lofts and chilly draughts. At a time of increasing gas prices energy efficiency is a no-brainer.
"It's also a massive economic and job opportunity which could help Britain's economy turn the corner. With up to 100,000 green jobs up for grabs over the next 5 years, and even more in the long term, this is about growing our economy in a way that's good for jobs, the environment and energy security."
The Green Deal, which is expected to be available from autumn 2012, will be open to homes and businesses and will involve a 3-step process:
**Step 1 **- an independent energy survey of the property, giving clear advice on the best energy efficiency options, such as loft or cavity wall insulation.
**Step 2 **- Green Deal finance to be provided by a range of accredited providers, which will be repaid through savings on energy bills, making properties cheaper to run from day one.
**Step 3 **- Homes and businesses will then receive their energy efficiency package. Only accredited measures will be installed by appropriately-qualified installers, overseen by Government, giving consumers confidence that the deal they are getting is high-quality and will save them money.
The Government has today also announced measures to improve the energy efficiency of the private rented sector. With Green Deal, landlords will face no upfront costs when improving their properties. The forthcoming Energy Bill will create powers allowing any tenant asking for reasonable energy efficiency improvements to receive them from 2015 onwards. It will also allow local authorities, to insist that landlords improve the worst performing homes. Whether or not we use these powers will be subject to a review.
In September, British Gas announced its plans to "go early" on the Green Deal by investing £30 million in installing energy efficiency measures in its customers' homes at no up-front cost. Repayments from customers will be made via savings in their energy bill.
To help deliver these energy efficiency services, British Gas plans to recruit a total of 3,700 "green-collar" jobs by the end of 2012. Today, British Gas announced that it has now filled 1,000 of these "green collar" roles across insulation, in-home advice, renewable generation and smart metering.
Phil Bentley, Managing Director of British Gas, said:
"With rising energy prices, there's never been a better time to improve the energy efficiency of Britain's homes. That's why we've worked quickly to set up the British Gas Green Deal, a £30million investment in our customers' homes. And today, we're pleased to announce the recruitment of our thousandth green collar worker, who will help deliver the British Gas Green Deal. In total, we aim to have 3,700 green collar workers in place by 2012."
In the build up to the Green Deal, 3.5 million more homes across Great Britain are likely to benefit from insulation by 2012 as part of changes to the obligation on energy suppliers announced in June. As part of the changes, 15% of homes helped will be the lowest income households more at risk of fuel poverty.
---
Notes to editors
We want the Green Deal to apply to the whole of Great Britain and are talking with colleagues in Scotland and Wales about this opportunity.
Further information about the Energy Security and Green Economy Bill can be found in our Legislation section.
It is estimated that there are 14 million insulation measures like loft, cavity and solid wall to be carried out in Britain's homes.
Were all 26 million households to take up the Green Deal over the next 20 years, employment in the sector would rise from its current level of 27,000 to something approaching 250,000.
The following business groups and other organisations have today lent their support to the Green Deal.
**Ian Cheshire, Group CEO Kingfisher plc and Chairman of B&Q, **said:
"The Coalition Government's flagship 'Green Deal' scheme offers great potential to revolutionise the home energy efficiency market. This will go a long way towards helping the UK to meet its ambitious climate change targets. We look forward to working together to help people save money and cut carbon in their homes."
**National Insulation Association Chief Executive Neil Marshall, **said:
"The Green Deal is an exciting new initiative which has a key role to play in significantly increasing the uptake of insulation, creating new jobs, whilst also reducing energy bills and tackling climate change. The NIA and its members look forward to continuing to work with Government in developing a robust delivery plan which will ensure a major increase in insulation volumes whilst maintaining the highest levels of quality and customer service."
Stephen Radley, EEF's Director of Policy and External Affairs, said:
"The Government's Green Deal promises to put money-saving energy efficiency measures within the financial reach of many small businesses for the first time. It also has the potential to open up a whole new market for energy efficient materials and equipment."
Brian Berry, Director of External Affairs at the Federation of Master Builders (FMB), said:
"The Government's Green Deal to cut carbon in buildings has the potential not only to transform the existing building stock to make it more energy efficient but also to open up a new market worth at least £3.5 billion every year for construction SMEs. The challenge will be to ensure that small contractors have the opportunity to access the work as well as to demonstrate that they have the required skills to ensure public confidence in the scheme. The FMB as the largest trade association the building sector with 11,000 members across the UK is well placed to rise to the challenge and is now working with the Government to ensure the Green Deal is a success."
**David Orr, Chief Executive of the Housing Federation, **said:
"Housing associations are excited by the Green Deal's potential to help green the nation's homes and reduce fuel bills. The National Housing Federation is working closely with DECC to ensure housing associations are at the forefront of delivering the Green Deal, not just for their affordable 2.5 million homes, but across the entire housing stock."
Keith Jones, Managing Director of the Plumb Center, said:
"Plumb Center is committed to working with Government to ensure that the Green Deal is effectively implemented and that households across the country benefit from the widest possible range of energy efficiency products resulting in a reduction in energy consumption."
**David Nussbaum, Chief Executive of WWF, **said:
"The Green Deal has the potential to become a game changing policy. WWF view the Green Deal as crucial to ensuring the UK is able to meet our 2020 carbon budgets - but, it needs to be attractive enough to encourage everyone to take action. A highly ambitious Green Deal will contribute to a green recovery, create numerous new jobs around the country, and of course move the UK closer to becoming a more sustainable, low carbon economy."
Published 2 November 2010