News story
Huhne and Hendry visit Sellafield
The Rt Hon Chris Huhne MP, Secretary of State for Energy and Climate Change, continued to acquaint himself with the UK's key energy infrastructure…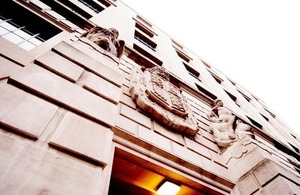 The Rt Hon Chris Huhne MP, Secretary of State for Energy and Climate Change, continued to acquaint himself with the UK's key energy infrastructure with a visit to Sellafield in Cumbria on Wednesday.
Joined by Charles Hendry, the Minister for Energy, and representatives from the workforce and the site's management, he toured the facility and learnt more about the progress and challenges of nuclear decommissioning on the site.
The Rt Hon Chris Huhne MP said:
The West Cumbria Energy Coast has a critically important role to play in relation to our nuclear legacy and potentially for new build. That's why I was so keen to get up to Sellafield to see the scale of the challenge and find out what we can learn from it for the future.
Touring the site I've felt a real sense of pride from everyone involved in this work - from the site security team to the engineers, right through to the senior management. And there's a real sense of progress, professionalism and desire to get the job done.
Charles Hendry added:
This is a most exciting time for the nuclear industry. When I visited the Energy Coast last year I said I wanted West Cumbria to be the foremost centre of nuclear expertise in the world, and what I've seen today reaffirms that view.
The level of expertise and skills that the industry possesses here is world-class. And it means that West Cumbria is extremely well placed to benefit from the opportunities that new nuclear build might bring to the area in the years ahead.
Bill Poulson, Managing Director of Sellafield Ltd., welcomed the Ministerial visit and their early engagement on the issue, saying:
Sellafield Ltd and Nuclear Management Partners were delighted to welcome the Secretary of State, the Minister and their party to Sellafield so soon after taking up their new roles.
The visit gave us a good opportunity to outline our work programme, showcase our priority areas such as risk and high hazard reduction, and our commitment to safety.
It also allowed us to demonstrate the progress we've made on site since NMP's arrival in November 2008.
Tony Fountain, Chief Executive of the Nuclear Decommissioning Authority, added:
We are delighted to have welcomed both the Secretary of State and Energy Minister to our most significant site so early into their term of office. Sellafield represents our most complex decommissioning and clean-up challenge and we were pleased to be able to show them the progress that is being made.
Note for editors
Photographs from the visit are available from www.flickr.com/photos/deccgovuk/
You can watch a clip of Charles Hendry talking about the visit:
Published 27 May 2010