World news story
Hugo Swire welcomes multi-billion dollar Gujarat gas deal
British and Indian companies agree one of the largest UK-India trade deals; a 20 year agreement to supply Liquefied Natural Gas to Gujarat.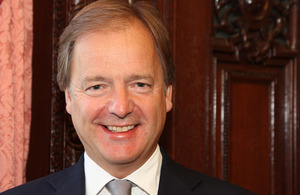 Speaking in Gujarat today at the signing of an agreement between the BG Group and the Gujarat State Petroleum Corporation Limited for the long-term sale of Liquefied Natural Gas, Foreign and Commonwealth Office Minister Hugo Swire welcomed the agreement saying:
"This deal is great news for the companies, for Gujarat, for the UK, and for India. Following the Prime Minister's highly successful visit last month this is further evidence that the UK and India are making real progress in building a stronger, wider and deeper partnership.
"It is significant that a British company is helping to increase energy security in one of the world's fastest growing economies. India is already one the world's largest markets for liquefied natural gas and demand is certain to grow.
"We are well on course to double trade with India by 2015 and I hope this is further encouragement to UK companies to trade, invest and build their presence in India."
Mr Swire is the first British Minister to visit Gujarat since November 2000 and comes five months after the British government's decision in October 2012 to re-engage with the senior political leadership of Gujarat.
Earlier in the day, Mr Swire met the Chief Minister of Gujarat, Narendra Modi, in order to discuss a wide range of issues of mutual interest, including human rights. Following the meeting, Mr Swire said:
"My visit today has been the logical next step since our decision to re-engage with the democratically elected leadership of this important state. I am confident that active engagement is the best way to pursue British interests in Gujarat. This includes support for the British nationals in Gujarat, for the large Gujarati community in the UK, for human rights and good governance. I hope we can forge a closer partnership in areas where the UK and Gujarat are world leaders such as education, science and technical innovation."
While in Gujarat, Mr Swire is also meeting other senior political figures, civil society representatives including various faith groups, and British consular wardens.
Mr Swire will visit Delhi on Thursday 21 March. He will meet senior Indian government Ministers to discuss trade opportunities and other areas of potential co-operation.
Notes to editor
Marcus Winsley Director, Press and Communications British High Commission Chanakyapuri, New Delhi 110021 Tel: 91-11-44192100; Fax: 91-11-26870065 mailto:Shireen.Mistry@fco.gov.uk
Published 20 March 2013