World news story
Hugh Robertson concludes his visit to the UAE
Minister of State for the Foreign and Commonwealth Office, Rt Hon Hugh Robertson MP, concluded a highly productive visit to the United Arab Emirates on 7-8 January where he held talks with government officials in Abu Dhabi and Dubai.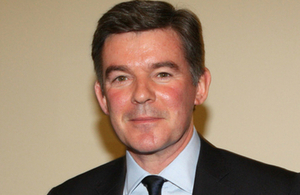 During his visit to Abu Dhabi, Mr Robertson held talks with UAE Foreign Minister His Highness Sheikh Abdullah bin Zayed Al Nahyan, His Excellency Dr Anwar Gargash Minister of State for Foreign Affairs and His Excellency Dr Sultan Al Jaber, Minister of State. Discussions focussed on the relationship between the UK and the UAE, and how the UK and UAE could co-operate more closely in the region.
The Minister also visited the Hedayah Centre, an international centre of excellence for countering violent extremism, and praised the UAE's role in supporting global efforts to prevent and counter terrorism.
In Dubai, Mr Robertson discussed consular and law enforcement matters with Dubai Police Commander-in-Chief Major General Khamis Mattar Al Mazina.
The Minister also conveyed his congratulations to His Excellency Helal Saeed Al Marri, CEO of Dubai World Trade Centre and Director General of Dubai Tourism and Commerce Marketing, for Dubai's successful bid for Expo 2020. Mr Robertson talked about the UK's and his personal experience of successfully hosting the London 2012 Olympic and Paralympic games and offered to help in any way that was appropriate.
Before leaving UAE to Doha, Minister Hugh Robertson said:
"My visit to the United Arab Emirates highlighted the strength of our bilateral relations. It was an excellent opportunity to discuss cooperation between both our countries on regional and global current affairs and I look forward to working even closer with our Emirati friends."
Published 9 January 2014