Press release
Huddersfield gang member has sentence increased as unduly lenient
Javarni Cato has his sentence increased to 9 years after the Attorney General takes action.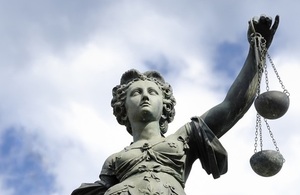 A man involved in drug-dealing and gang conflict has had his sentence increased after the Attorney General, Jeremy Wright QC MP, referred it for being too low.
Javarni Cato, 17, was originally detained as he and another male fled a flat in Gloucester where police had found heroin, crack cocaine, and over £500 in cash.
While on bail for the drug offences, Cato fired a pistol at a group of people but no one was hit. Less than a week later, he was involved in a similar shooting which seriously injured a taxi driver. The crimes are believed to be related to Huddersfield gang activity.
Cato was originally sentenced to 5 years 4 months imprisonment at Leeds Crown Court. Today, after the Attorney General's reference, the Court of Appeal increased his sentence to 9 years.
Commenting on the sentence increase, the Attorney General said:
"I am pleased that the Court of Appeal has agreed with me that this sentence was too low. Gang-related crimes are serious offences, especially when firearms are involved, and a longer sentence more accurately reflects the damage that Cato's actions have had on individuals and the wider community."
Published 17 May 2018