HRH the Princess Royal visits the Philippines
Her Royal Highness the Princess Royal is visiting the Philippines next week.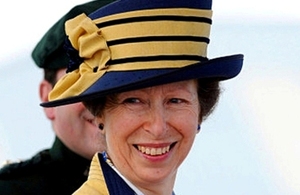 This is part of a series of high level visits from the UK to the Philippines to strengthen relations between the two countries.
This will be her second visit to the country; her first visit was in March 1999.
Her Royal Highness's programme of engagements is essentially in support of her many charities, and she also travels abroad extensively undertaking Foreign and Commonwealth Office, Olympic and charitable engagements.
The Princess Royal is President or Patron of some 320 organisations. The Princess Royal's work with the Save the Children, of which she has been President since 1970, has given her great insight into the needs of children worldwide. She has travelled extensively with Save the Children in many parts of the world. She also serves as President of the Register of Engineers for Disaster Relief.
The Princess Royal, the second child and only daughter of The Queen and The Duke of Edinburgh, was born at Clarence House, London, on 15 August 1950, when her mother was Princess Elizabeth, heir presumptive to the throne. She was baptised Anne Elizabeth Alice Louise at Buckingham Palace on 21 October. She received the title Princess Royal from The Queen in June 1987; until then she was known as Princess Anne.
The Princess has ridden all her life and she soon proved herself an expert horsewoman. In 1986 The Princess Royal succeeded her father as President of the International Equestrian Federation (FEI), a post which she has since relinquished. After five years as President of the British Olympic Association she was elected to the International Olympic Committee in 1988. She has been President of the Riding for the Disabled Association since 1969 and the Royal Yachting Association since 1987.
During her visit:
The Princess Royal will call upon the President of the Republic of the Philippines, Mr. Benigno S. Aquino III. The Princess Royal will call upon the Vice President of the Republic of the Philippines, Mr. Jejomar C. Binay. The Princess Royal will attend a future entrepreneurs roundtable discussion followed by a sporting Reception. The Princess Royal, President, Save the Children, will visit projects and beneficiaries supported by Save the Children as well as an elementary school in Leyte.
The Princess Royal will attend a British Council education roundtable discussion.
The Princess Royal, Patron, Opportunity International UK will visit Tulay sa Pag-Unlad Incorporated micro-finance trust.
Published 12 March 2015