News story
Houses fit for heroes
Airdrie project among those set to benefit from £40 million of new LIBOR funding.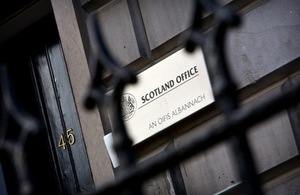 The already "outstanding" work that Scottish charitable projects do for the Armed Forces community will be further enhanced by cash from fines imposed on banks for manipulating lending rates.
That was the message from Scotland Office Minister David Mundell as he visited Houses for Heroes Scotland's accommodation project for disabled veterans in Airdrie.
The minister's visit coincides with the UK Government committing a further £40 million of LIBOR funding earlier this month towards nationwide housing projects for ex-Armed Forces personnel. Many more veterans across the UK are expected to benefit from this new funding over the coming years which will help charities build new homes, buy new accommodation or renovate existing facilities.
Mr Mundell said:
Veterans in Scotland and across the rest of the UK who are in need housing support will be able to benefit from a further £40 million of LIBOR funding announced by the UK Government earlier this month. This new funding is great news and underlines the UK Government's unwavering commitment to the Armed Forces Covenant.

Using LIBOR fines to help transform the lives of so many men and women in our Armed Forces community is a fitting way to show that we support those who have served their country with honour and bravery.
Founded in Edinburgh in 1915, Houses for Heroes Scotland houses the greatest number of disabled veterans in the United Kingdom. They build, provide and maintain low-cost rented housing in Scotland for British ex-Service personnel that suffer from permanent mental or physical disabilities. Last December they received almost £2 million of funding from the UK Government raised through LIBOR (London Interbank Offered Rate) fines imposed on banks.
During his visit today the Minister met with Houses for Heroes Scotland Chief Executive Peter Minshall and Lee Aitchison, one of Houses for Heroes Scotland's current tenants and an aspiring Paralympian who has recently been selected to take part in the Paralympic Inspiration Programme in Sochi next month with aspirations to take part in the 2016 Paralympics in Rio.
The Minister added:
It was a great pleasure to be in Airdrie today and see first-hand the vital work that Houses for Heroes Scotland are undertaking. Local communities across the length and breadth of Scotland will benefit from £5.5m of LIBOR funding that Scottish charitable projects received last year. I am sure that the money Houses for Heroes Scotland have received from the LIBOR fund will further enhance their already outstanding work by providing more homes throughout Scotland for ex-Service personnel wounded in recent conflicts.

It is great to see that the assistance that Houses for Heroes Scotland has provided to the Aitchison family has made such a difference to their lives. As we have seen over the past few weeks, the Olympics provide a unique source of inspiration. I hope Lee enjoys his experience in Sochi and I have no doubt that he will give everything he has to be a part of the 2016 Paralympics and I wish him every success.
Published 27 February 2014