World news story
House of Lords Speaker D'Souza visits Brussels
Along with senior EU meetings, the Speaker of the House of Lords holds a bilateral meeting with Belgian Senate President Sabine de Bethune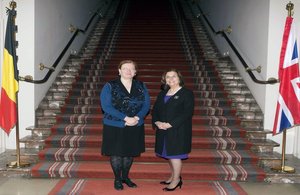 The Lord Speaker, Baroness D'Souza, visited Brussels on 28-29 May to discuss with other leaders the role of national parliaments within the EU and the major issues facing the Union.
As well as overseeing proceedings in the Lords chamber, the Lord Speaker acts as an ambassador for the Lords in the UK and abroad. In this capacity Baroness D'Souza's trip to Brussels included a visit to the Belgian Senate, hosted by the Senate President, Sabine de Bethune.
Baroness D'Souza said:
It was a pleasure to meet my counterpart and other members of the Belgian senate and to discuss the role national parliaments play within the EU
The Lord Speaker also met the President of the European Council, Herman Van Rompuy, the President of the European Parliament, Martin Schulz, and the EU's High Representative and vice-president of the Commission, Baroness Ashton of Upholland.
For more information on the work of the British Embassy to Belgium, follow us on Twitter or Facebook.
Published 6 June 2013