World news story
Hope for Remand Prisoners
The British High Commission has funded the Centre for Paralegal Services at Nsawam Prisons bringing hope for remand prisoners.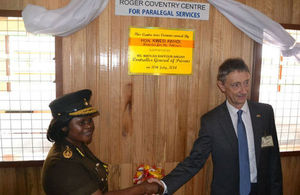 Prisoners on remand in jail for criminal charges often have to wait too long for their cases to be heard. Sometimes for years and years, sometimes for longer than the sentence they might eventually receive! It is no comfort they are presumed innocent.
On Wednesday 30th July the Prisons Service took a major step forward in addressing this problem. The Deputy Minister of the Interior, James Agalga, formally opened the Paralegals Centre at Nsawam Prison in the presence of the Controller General of Prisons,Ms. Matilda Baffour-Awuah and Roger Coventry, the Criminal Justice Adviser from the British High Commission. The Paralegals Scheme was conceived and developed by the Controller General, working together with Roger Coventry, Superintendent Charles Ameyaw and a team of Prison Officers and the Pro Bono Group of the Young Bar Forum. Both the Deputy Minister and the Controller General in their addresses expressed their determination to reduce the time remand prisoners wait.
The Prisons Paralegal Officers will keep a check on how long a prisoner has been waiting. When a time limit, depending on the seriousness of the case, is reached then the Officer will forward the details to the Young Bar's Pro Bono (working for no pay) lawyers. They will see the remand prisoner, listen to what he says, then have his case listed in court for a bail application and to have the case speeded up. The British High Commission was pleased to fund the Centre at Nsawam Prison. Two offices were created and equipped with desks, cabinets and IT equipment. It is in this Centre that the times prisoners spend waiting will be monitored and action taken. The British High Commission was delighted that the Controller of Prisons has named these offices, the 'Roger Coventry Centre' after their Criminal Justice Adviser. The Prisons Service is now looking to open further such Centres in other prisons throughout the country in their Programme to reduce the time remand prisoners wait for their cases to be heard.
Published 1 August 2014